Deus Ex: Human Revolution has been a long time coming, but—annoying boss fights aside—it seems to have been worth the wait. From this winter, Mac users will be able to join the PC, 360 and PS3 owners already playing the game, as veteran Mac publisher Feral Interactive brings the game to Apple's computers.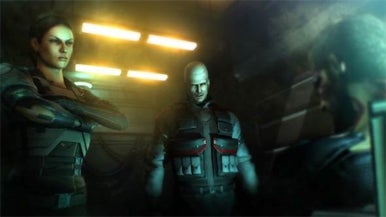 The UK-based Feral Interactive is experienced in bringing big-name franchises to the Mac platform, having been in the business since 1996. It has conversions of BioShock, Borderlands, Rome: Total War, Lego Star Wars, Sid Meier's Pirates! and numerous others to its name, and is a key part of the growing push for more gaming on the Mac platform. While games may not yet have achieved the same level of ubiquity on the Mac as they do on the PC, the efforts of publisher-developers such as Feral coupled with growing Mac support from services such as Steam mean that Apple's computers are becoming far more viable gaming platforms than they were even just a few years back.
"Deus Ex: Human Revolution presents the player with truly meaningful decisions in a unique and captivating game world," said David Stephen, Managing Director of Feral Interactive. "The degree of freedom it offers is extraordinary."
"We are delighted to partner with Feral, a leading expert in development for the Mac platform, to bring the acclaimed Deus Ex: Human Revolution to Mac players," added Stephane D'Astous, general manager of Eidos Montreal. "The game presents a powerful vision of a dystopian future, and we're excited that gamers will now be able to experience it on the Mac."
System requirements, a precise release date and pricing have not yet been announced but are promised "later in the year"—likely October, according to Feral's news post. Some Mac games require slightly higher specifications than their PC equivalents, so if you own an older Mac and are weighing up the pros and cons of buying a native OS X version versus installing Boot Camp on your machine to run the Windows edition, you'll have to wait until later in the year to make an informed decision.