If you're one of those "power" iPhone users who likes to send text messages and emails in bulk, the free my Circles offering from Vine Creative is a handy tool.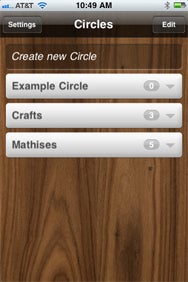 The app's mission is simple: It lets users create groups from the contacts list on the phone so that a group text or email can be sent quickly—no more adding recipients one-by-one while composing your message. The app flags people in a circle who don't have an email address or a text number associated with their contact information in your iPhone, making it less likely that you'll miss transmitting information to its intended recipients.
Adding contacts is easy and intuitive: The app invites you to "create a circle" on its home page—it's just a matter of following the prompts from there. Circles can be designated for work or personal use. It's pretty easy to add or subtract new contacts to an existing circle. And the texts and email messages can be sent directly from the app.
There's not much else to my Circles, but there doesn't have to be. The app is intuitive to use and it gets the job of mass-messaging done without any fuss.
[Joel Mathis is a freelance journalist and political columnist for Scripps Howard News Service. He lives in Philadelphia.]