Photographers of all levels—from professional to hobbyist—eagerly embraced the iPhone as a powerful shooting, sharing, and editing device: the sheer number of photography apps available for the iPhone and iPod touch is overwhelming. The iPad, however, has proven to be less popular as a device for the snap-happy crowd.
There are a few logistical reasons for that, starting with the iPad's size and weight. Lifting the larger device to take photos is far less convenient. Perhaps more importantly, the rear camera's resolution is less than a megapixel (a mere, and somewhat ridiculous, 0.7 megapixel) compared to the iPhone 4's 5-megapixel camera. But that doesn't mean the iPad can't enjoy a predominant place as a photographic tool. Its larger screen facilitates easier photo editing, better photo display, plenty of light, and more.
Here are seven apps that take advantage of the iPad's interface and size, and turn it into a productive photography tool (click on any of the images below for a larger view).
Snapseed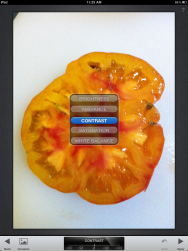 Snapseed is the latest offering from Nik Software, maker of photography programs and plug-ins. The app, which is the company's first iOS venture, is easy to use and offers a variety of simple photo-editing options organized into 11 sections. Choose from Automatic, Selective Adjust, Tune Image, Straighten & Rotate, Crop, Black & White, Vintage Films, Drama, Grunge, Center Focus, and Organic Frames.
Each section contains multiple options. For example, with Tune Image, you can adjust brightness, ambiance, contrast, saturation, and white balance. Selective Adjust gives you slightly more advanced options with the program's Control Points, used for fixing parts of your images. You can change the location and size of a Control Point, and then edit a particular area for brightness, contrast, or saturation.
What sets Snapseed apart from other iPad photo-editing apps is its gesture-based interface. You can tap and slide your finger anywhere on the iPad screen to switch between editing options or to adjust a discreet element of an image—a much more intuitive method than trying to work with small sliders or a Curves tool. If you want to make quick edits in an app that makes sense, Snapseed is perfect.
Snapseed; $5 (iPad, iPhone, iPod touch)
Softbox Pro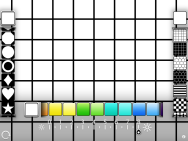 Not all useful photography apps are for image taking, editing, and sharing. The aptly-named Softbox Pro acts as an accessory that turns your iPad into a softbox light. This simple app successfully accomplishes one task: Lighting. You will use another camera to actually shoot your photos. As with a standard softbox light, Softbox Pro provides even and diffused lighting for your shots. You can choose from over a dozen shapes, patterns, and colors, and even adjust the brightness. For photographers who like to shoot in dark settings and travel light, this app will come in handy. For examples of images taken using Softbox Pro, check out the app's Flickr group pool.
Softbox Pro; $3 (iPad)
Photogene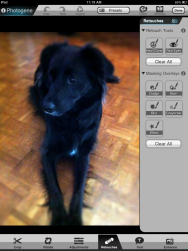 If you're looking for a full-featured image editor for your iPad, Photogene is one of the best available. This app lets you crop, rotate, flip, or straighten photos with a couple of easy taps, and there are adjustment sliders for exposure, saturation, contrast, shadows, highlights, color temperature, and tint.
Photogene features a Retouches tab that includes a Heal/Clone and a Red Eye correction function, along with five masking overlays—Dodge, Burn, Blur, Grayscale, and Effect. Lo-fi filter lovers get plenty of attention—the app has numerous options to choose from, with 16 presets such as '20s Vintage to Purple Haze. Users can also add a vignette, frame, and text in variously shaped text bubbles. The app supports a number of raw formats, and you can export to Flickr, Dropbox, Facebook, Twitter, Picasa, and via FTP and email.
Photogene; $3 (iPad)
Photosync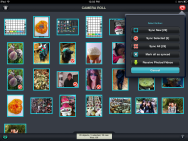 Photosync is perfect for photo enthusiasts who want to sync their photos across multiple devices, but are sick of cables and poky, unreliable Bluetooth connections. This app makes wireless photo transfers incredibly easy, which is especially helpful if you shoot photos on your iPhone, but prefer to edit them on an iPad.
Choose photos from your camera roll or photo library, and tap a button to connect with another device. To transfer images between iOS devices, you need to have Photosync installed on both. You can also download a Mac client for transfers between a computer and an iOS device.
There are no limitations on how many photos you can transfer at one time (1000 photos? Sure!), and the app keeps track of which photos you've synced and where, so that you don't accidentally duplicate transfers. Other perks include a Web browser that you can use to view all of your photos from any computer and support for photo transfers to Dropbox, Flickr, Picasa, Facebook, SmugMug, or via FTP.
PhotoSync; $2 (iPad, iPhone, iPod touch)
Color Splash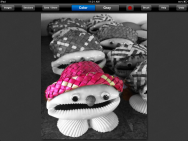 Calling attention to one color or object in a photo is a fun artistic technique that's made simple with the Color Splash. To start, you select an image from your photo libary, and Color Splash automatically turns it into a black-and-white photo. You then paint color back onto parts of the picture using your finger as a brush.
One great feature in Color Splash's iPad app is the ability to adjust brush size (the iPhone and iPod touch version offers only one brush size). If you make a mistake, don't worry, you can either undo the last move or tap Gray to paint parts of the image back to black-and-white. You can also zoom in and out of a photo for more detailed coloring. If you want to take a break, the app gives you the option to save the image as a Session for future editing. When you're finished, save the image to your photo library, email it, upload it to Facebook, print it, or copy it to paste into another document.
Color Splash; $2 (iPad, iPhone, iPod touch)
HelloPhoto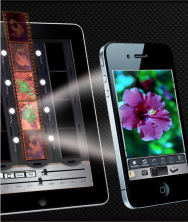 For all the people who would never dream of throwing out their boxes of slides and negatives—even when they go untouched for years—HelloPhoto is here to help bring these valuable assets back into your line of sight. This app functions as a light table to view slides and negatives of different sizes. You can choose tray options for 35mm negatives, 35mm slides, and 120/200 film, or opt for full-screen viewing mode. You can also adjust white balance and brightness of the light.
The most noteworthy feature, however, is the app's ability to convert negatives into positive digital images. You will, however, need an iPhone to make this bit of magic happen. Just place the negatives on the iPad light tray, and take a photo of the negative within the iPhone HelloPhoto app, and voila your negative springs to life. From there your image is ready for sharing with the digital world—save it to your camera roll, send it via email, or post it onto Facebook.
HelloPhoto; $2 (iPad, iPhone, iPod touch)
100 Cameras in 1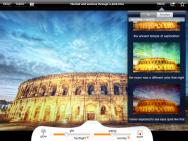 The name says it all for this app, which offers 100 preset filters for your photos. While this might sound like just another vintage-obsessed photo-filtering app, it's not. 100 Cameras in 1 offers an entirely new level of preset-based image editing.
Filters include such options as "A gentle feeling of warmth against my side," "The first smell of summer chlorine," and "A child's shoes swinging from the chairs." After choosing a filter, you can make adjustments from the menu at the bottom of the app. You'll find Yin and Yang sliders for seven blending modes: HardLight, Overlay, Multiply, Luminosity, Screen, Hue, and Dodge. Playing with these will change the effect in seemingly endless ways. Users who want even more editing control can adjust the brightness and contrast of the image, or add a vignette. iPad 2 users can also take in-app photos, though original iPad users can only use existing photos. The app supports photo sharing through email, Twitter, Facebook, SmugMug, Flickr, Instagram, and more.
100 Cameras in 1; $4 (iPad)
And if that's not enough photographic goodness, check out Macworld's roundup of iPhone photo apps that go beyond the lo-fi.