While Steve Jobs's departure from the Apple CEO chair marked a major shift in the company's development, one thing it probably won't affect—for now, anyway—is the company's bottom line. A new survey from market research firm ChangeWave Research says that the end of Jobs's tenure at the company's top post won't slow consumer adoption of its products.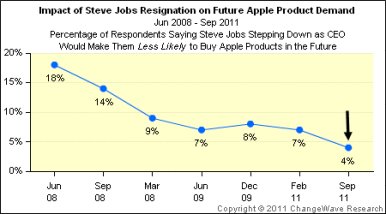 ChangeWave first began asking consumers about how a possible Jobs resignation would affect their purchase habits back in 2008, after Bloomberg mistakenly published an obituary for Jobs. At the time, Jobs's health was a source of concern for investors, ChangeWave director of research Paul Carton told Macworld.
In 2008, consumers were wary of a Jobs-less Apple, with 18 percent saying that the icon's theoretical resignation would make them less likely to buy Apple products in the future. Since then, though, ChangeWave has revisited the question on a regular basis and, for the most part, the percentage of worried consumers has continued to drop.
In the most recent survey of the question, conducted earlier this month, only 4 percent of consumers said they would be less likely to buy Apple products without Jobs at the company's helm. Fully 1 percent of those surveyed said they would be more likely to buy products with him gone, and 6 percent said they didn't know. That means that almost 90 percent of consumers surveyed are just as likely to buy Apple products no matter who's in the current CEO spot.
It seems, in retrospect, that Jobs's multiple leaves of absence may have actually been beneficial to the company, weaning consumers off the idea that the former CEO was the only person at Apple who mattered. Ultimately, it seems, consumers are comfortable with the idea that it's not about who the company is so much as what it's making.
In case you need more evidence that Apple remains on track, take a gander at a couple other numbers that ChangeWave provides about the success of the iPad. Not only does Apple's tablet continue to dominate the consumer market—85 percent of consumers surveyed in August about their planned tablet purchases said they'd be buying an iPad—but the inroads in the business market are almost as dramatic.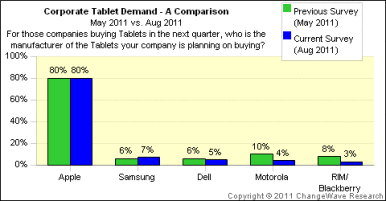 Among corporate buyers, 80 percent of those surveyed in August planned to buy iPads, while just 7 percent said they planned to buy a Samsung tablet, 4 percent said they planned to buy a Motorola tablet, and 3 percent were opting for a RIM PlayBook.
Stack those numbers up against their May counterparts and the story gets more interesting: at that point, Samsung had captured 6 percent of planned purchases, Motorola 10 percent, and RIM 8 percent—all while the iPad still held 80 percent. It suggests that, at present, most of the tablet makers are merely fighting among themselves for market share while the iPad stands above the fray.
As for why, it shouldn't be any surprise at this point. ChangeWave points out that 70 percent of iPad owners deem themselves "very satisfied," compared to just 42 percent for other tablet devices.
So, if the iPad is sitting pretty and consumers have acclimated to Steve Jobs stepping down, what is there for Apple to worry about? The rumored Amazon tablet hangs on the horizon, but ChangeWave's survey says that just 2 percent of consumers described themselves as "very likely" to buy a Kindle tablet, with 12 percent on the fence as "somewhat likely." That might make it Apple's toughest challenger to date, but it's certainly a lot of weight to put on the shoulders of a device that we have yet to see.