At a Glance
Expert's Rating
Pros
Microphone auto-sleep setting
New social network posting features
Improved operation with Microsoft Word 2011
Auto formatting prefs choose how words are typed
Cons
Editing still a bit cumbersome
Dictate-and-edit feature only for Word 2011
Occasional crashes
Our Verdict
The latest version of Dragon Dictate is similar to the last version we reviewed ( version 2.0, in October, 2010), but brings several small changes, along with one important new feature to the program. Dragon Dictate (and its predecessor MacSpeech) have long depended on what they call the "golden rule," which said that you could not both dictate into a document and edit it using the keyboard. While you've been able to ignore this rule using the program's built-in notepad, you could not both dictate and edit in other applications, notably Microsoft Word.
Dragon Dictate 2.5 allows users to "violate" the golden rule with Microsoft Word 2011 ( ). This has long been possible with Nuance's Windows program, Naturally Speaking, but this feature was not available to Mac users. This was also one of the features I mentioned was lacking in the previous review of Dragon Dictate. (I will essentially discuss the program's performance and how it works with Microsoft Word in this review. Please see the previous review for broader discussion of Dragon Dictate's features.)
To test this new version of Dragon Dictate, I used my 13-inch 1.7GHz Core i5 MacBook Air with 4GB of RAM—this model is at the lower end of the performance scale of the current Mac lineup. Dragon Dictate takes up a fair amount of space; the application itself is not very large, but there is 1.4GB of support files. For this reason, using it on a laptop with a small hard drive or SSD may be a problem for some.
I found the program's performance to be excellent on this Mac, and I definitely have the feeling that accuracy has improved a bit in this new version. (A Nuance spokesperson said that he had heard this from several users, but that the underlying recognition has not changed. There may, however, be some improvement in audio processing that leads to better accuracy.)
In the program's Recognition preferences, there is a slider where you can choose whether you want the program to prioritize speed or accuracy. Dragging it all the way to the Accuracy end, typing was a bit sluggish, but accuracy was excellent. When I moved it to the Speed end, accuracy was a bit less precise but words appeared on the screen almost immediately, every time I paused. However, some annoying common errors occurred: Dragon Dictate would often type "and" when I said "end." Adjusting the slider setting to the center turned out to be the best solution.
As with past versions, I found it much easier to edit by hand rather than to use the program to navigate through texts and dictate corrections and replacements. I did use the program's Recognition window to make changes at the ends of phrases or sentences. In this manner, when Dragon Dictate isn't exactly sure what you said, it displays a number of choices. If the text typed is not correct, you look at this window, find the number of the text that corresponds what you said, and then say, "pick three," for example. For other corrections—such as inserting an apostrophe before the letter "S," or correcting the spelling of homonyms—it was much simpler to do when I reread my documents after I'd finished dictating them. Since you can now dictate and edit in the same document with Microsoft Word, it's easier to edit on the fly. I tend to dictate a paragraph or so, edit, then go on to the next paragraph.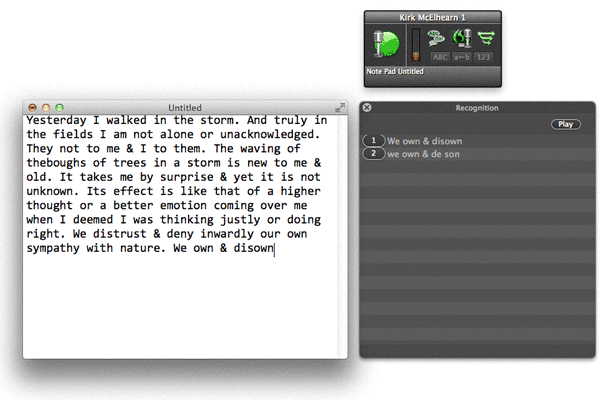 There were occasional problems during my tests. The program crashed several times, generally when I was editing text in the program's notepad. Sometimes, when editing text, the program would get confused and lose its place, and start typing words or letters where I did not intend it to. But this occurred much less than with version 2.0. In addition, I gave Dragon Dictate some difficult texts to type. In addition to dictating this review, some emails, and other texts about computers, I read some passages from Ralph Waldo Emerson's journals and from Henry David Thoreau's Walden. While these texts contain some archaic words —for which I needed to use the program's spelling mode and spell them out letter by letter—for the most part, Dragon Dictate succeeded quite well.
Dragon Dictate 2.5 adds some small features that make working with the program easier. Two new commands let you post to Facebook and Twitter; you log in via Dragon Dictate's preferences, and you can easily dictate a post in seconds without leaving the application. A new Auto Formatting dialog lets you choose how you want numbers, addresses, dates and times, and more to be formatted. And an auto-sleep setting lets you have the microphone go into sleep mode after a pause; by default, this is one minute, but you can change it to from 30 seconds to 5 minutes. Another new feature in Dragon Dictate 2.5 is the availability of a free iOS app that can turn an iPhone, iPad or iPod touch (with a microphone attached) into a mike for dictating. This isn't ideal, but, in a pinch, one might wish to use this mobile app to dictate if another microphone is not available.
Macworld's buying advice
Dragon Dictate has taken a big leap forward with this new version, finally offering the ability to dictate and edit simultaneously in Word documents. Microsoft Word is the most commonly used word processor, but there is a need for this feature to be available in all programs. I hope a forthcoming update to Dragon Dictate will offer this feature.
[Senior contributor Kirk McElhearn writes about more than just Macs on his blog Kirkville. Twitter: @mcelhearn. Kirk is the author of Take Control of Scrivener 2.]