Epson America has announced a new line of portable projectors, the MegaPlex series, aimed at turning your mobile Apple device into a home theater or business presentation device.
The two models in the series, the MegaPlex MG-850HD and MegaPlex MG-50, offer stereo speakers and a built-in dock for iOS devices. Epson says that they're easy for users to set up in order to watch movies, presentations, and photo collections stored on an iPhone, iPod touch, or iPad.
The MegaPlex models can also be connected to other devices—such as PCs, gaming consoles, tablets, and other smartphones—via the projector's built-in USB, HDMI, and VGA ports.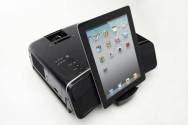 Those who don't want to watch a movie or flick through photos can relax to the soothing strains of their tunes, thanks to the fact that both the MG-850HD and MG-50 sport 10W speakers. A microphone input lets a user narrate a presentation or—we kid you not—sing karaoke.
The only difference between the two models is the image resolution. While both use 3LCD technology, the MG-850HD sports 2800 lumens of color and can display video in 720p high-definition; the MG-50 supports up to 2200 lumens of color in 540p.
The MegaPlex series will be availble by the end of September. The MG-50 will cost $700, while the HD version can be picked up for an extra hundred dollars at $800.