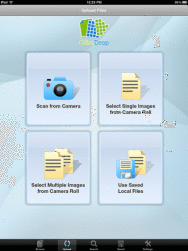 The cloud-storage provider OfficeDrop has revamped its iOS app, expanding it from an iPhone-centric program to a universal app. The new version is optimized to take advantage of the iPad 2's camera for "scanning" paper documents into electronic storage.
OfficeDrop 2.0 launched Wednesday morning. Like earlier versions, it lets you use the camera on your iOS device to take pictures of important documents—bills, travel itineraries, and the like—and store them in OfficeDrop's cloud. You can also upload other documents from your computer to the storage service, and view them as searchable PDFs on your device.
OfficeDrop's well-regarded Web service lets you share those documents to Google Docs, Evernote, and FreshBooks. Such extensive sharing isn't available on the iPad app, but you can use the app to save documents to Dropbox. Furthermore, OfficeDrop doesn't require you to be wholly dependent on the cloud; documents can be saved directly to the app so that they can be accessed even if you're out of Internet or 3G service range.
In practice, the updated app's scanning service is just a bit tricky. When taking a picture of a typical 8.5-by-11 document, you need to have a real steady hand with the iPad—and fairly bright light—to ensure that the document remains legible. I had to re-shoot my electric bill twice, the last time under a lamp, in order to get a reasonably readable copy of it. I found it best to shoot a closeup of a portion of the document—about a half-page—for the optimum readability.
You'll also need a certain amount of patience. I uploaded three scanned documents using the app, and two of them took 10 or more minutes before they were processed and available for viewing either in the app or via OfficeDrop's Web service. (Unlike many apps that let you take pictures, OfficeDrop doesn't save photos you've taken in the iPad's photo library—what happens on OfficeDrop, at least briefly stays on OfficeDrop. You're probably better off taking a picture of the document using the iPad's regular camera, then uploading it from your photo library using the OfficeDrop app.) The third scanned document? It took an hour to become available: OfficeDrop's website told me that it was "in process" for a bit, then it seemed to disappear entirely. I'd given up on it entirely before it appeared in both the app and the Web service an hour later. That's disconcerting if you're trying to move quickly or efficiently.
These are competitive times in the cloud-storage business, particularly in the Apple universe. Cupertino, of course, will soon launch its iCloud service that will let owners of Apple devices store and access up to 5 GB of documents. And OfficeDrop rival Syncplicity launched its own iOS app earlier this month.
The OfficeDrop service offers a free 14-day trial for new users. After that, the service charges $10 a month to give a single user 10 GB of storage, or $45 a month to give three users up to 45 GB of storage. OfficeDrop's iOS app is free, and compatible with devices running iOS 3.2 or later.