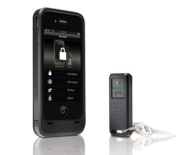 Kensington wants to make sure that you and your iPhone don't come down with a case of separation anxiety. The accessory maker's latest offering, BungeeAir security cases, alerts you when you and your smartphone are about to part ways.
Kensington's BungeeAir Power Wireless Security Tether and Battery, released Wednesday, includes a protective iPhone case with a battery pack and a small fob to attach to your keys or carry around. Once you place the iPhone in the case and download the free BungeeAir offering from the App Store, the phone and the fob will maintain a wireless connection to one another. Separating the two breaks the wireless connection, triggering an alert on the fob and automatically password-locking your iPhone. It's an ideal setup for those times where you might not realize you're about to leave your phone lying out in the open—say at a restaurant or in a cab.
Users can customize the BungeeAir security settings, such as the distance required between the two devices to set off the alarm. For instance, if you're at home you might want to choose to have a larger distance, so that you don't constantly hear an alarm when walking around the house. But if you're in a busy public setting, it might be useful to adjust for a shorter distance in case of theft. The signal is effective for up to around 50 feet, depending on the environment, Kensington says.
The accessory also includes a find feature, making it possible to find a misplaced phone or fob. As long as the two are within wireless proximity to each other, you can press the find button on the fob to ring an alarm on the case. Alternatively, you can tap the Find my Key option within the BungeeAir app to activate the fob's sound and vibration alarm. (It's a more immediate solution than Apple's Find My iPhone offering, though iOS owners should still take advantage of that free service for tracking down their missing mobile devices.)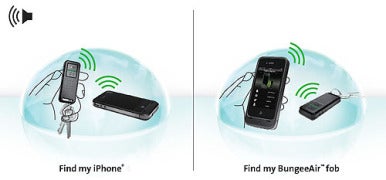 A built-in battery doubles your phone's battery life, according to Kensington. Other small features include a built-in stand slot on the case for landscape viewing and up to six months of battery life on the dongle (batteries are replaceable).
In addition to the BungeeAir Power Wireless Security Tether and Battery, Kensington also offers the BungeeAir Protect Wireless Security Tether. It's nearly identical to Power accessory, only without the battery pack.
The $100 BungeeAir Power Wireless Security Tether and Battery is currently available exclusively on Amazon until October 5. You can pre-order the $80 BungeeAir Protect on Amazon, Kensington's website, and major resellers; the company has not specified a release date. The BungeeAir app is available on the App Store and requires iOS 4.0 or later.