Several companies are displaying new Thunderbolt-based hardware at the 2011 Intel Developer Forum in San Francisco this week, giving users of Thunderbolt-equipped Macs new hope that they will finally be able to take full advantage of the high-speed connection technology.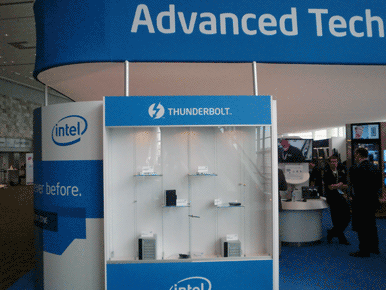 The Thunderbolt devices at IDF were part of the Advanced Technology Zone, a section of IDF dedicated to demonstrating technologies such as Thunderbolt. Unfortunately, the devices were displayed in a cabinet behind glass; the Zone's only Thunderbolt demo was of the Promise Pegasus R4 RAID array, released in June (Macworld Lab has benchmarks on the Pegasus R6).
Even though IDF attendees weren't able to see demos of most of the displayed devices, it's encouraging to see physical evidence (even if some of the devices are prototype models) that Thunderbolt products are on their way. Here's the lowdown on the Thunderbolt products displayed at IDF.
New Thunderbolt controllers
As reported by AnandTech, Intel will introduce two new Thunderbolt controllers called Cactus Ridge. One version will have four 10Gbps data channels and support for two DisplayPort connections, while the other will support two 10Gbps data channels and one DisplayPort connection.
Currently, Apple uses the Light Ridge controller (four channels) in the Mac mini, iMac, and MacBook Pro. The Eagle Ridge controller (two channels) is used in the MacBook Air. The new controllers will be smaller than the large Light Ridge controller.
Aja Io XT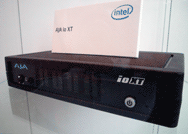 Video hardware companies are looking to take advantage of Thunderbolt's 10Gbps per channel throughput, so you'll see several new Thunderbolt video products coming down the pike. Released last week, the $1495 Aja Io XT is a portable video and audio capture box.
The Aja Io XT features hardware-based 10-bit standard definition (SD) to high definition (HD) conversion, HD to HD cross-conversion, and HD to SD conversion, as well as HD to SD 12-bit component analog output.
Ports include two 3G Serial Digital Interface (SDI) inputs and outputs, HDMI in and out, SD or HD Component output, and two Thunderbolt ports.
Belkin Thunderbolt Express Dock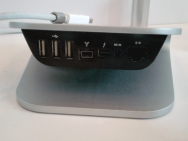 Belkin is using Thunderbolt to provide users with more expandability. The Thunderbolt Express Dock has three USB ports, a FireWire 800 port, and a Thunderbolt port. Representatives at IDF were not able say whether the Dock has USB 3.0 or USB 2.0 ports. Since Apple currently implements USB 2.0 on its computers, having USB 3.0 ports would be especially handy and let you take advantage of USB 3.0's speed boost over USB 2.0.
To connect other Thunderbolt devices, you simply create a daisy chain of devices. For example, you would connect a Thunderbolt RAID array to the Thunderbolt Express Dock, which is connected to your Mac.
Pricing and availability for the Thunderbolt Express Dock have yet to be determined.
Blackmagic Design Intensity Extreme and UltraStudio 3D
The $299 Intensity Extreme is a video capture and playback device with HDMI and analog video support. The Intensity Extreme draws all of its power from the Thunderbolt connection, which helps cut down on cable clutter and makes the Intensity Extreme easier to manage as a portable device.
According to Blackmagic, when an HD camcorder is connected to the Intensity Extreme, the device is able to capture video directly from a camcorder's image sensor. This allows you to bypass the camcorder's compression.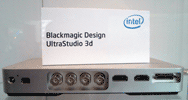 The $995 UltraStudio 3D is also a video capture and playback box, but it has support for capturing two video streams for stereoscopic 3D.
The UltraStudio 3D has dual link SDI inputs, dual link SDI outputs, HDMI 1.4a in and out ports, and a breakout connector for analog connections. The device also comes with an international power supply.
Blackmagic says that the Intensity Extreme and UltraStudio 3D are compatible with Apple Final Cut Pro 7, but not yet with Final Cut Pro X.
Seagate hard drives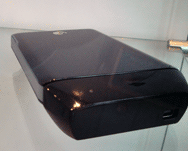 The Seagate GoFlex hard drives have connectors that are removable. For example, you can get a USB 2.0 connector with a GoFlex drive, and if you decide later that you want FireWire 800, you can buy the FireWire 800 connector, remove the USB 2.0 connector, and replace it with the new FireWire 800 connector.
Back in February, Seagate announced its plans to release a Thunderbolt adapter for its GoFlex drives. And though it has yet to ship, it did make an appearance at IDF (or at least the outer casing of the adapter made an appearance).
Also displayed was a black box generically labeled, "Seagate Desktop Storage," which seems to indicate that Seagate plans to implement Thunderbolt in its desktop hard drives.
Sonnet and Magma PCIe card adapter boxes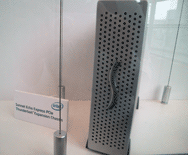 Thunderbolt is based on the PCI Express (PCIe) architecture, and you might know that the Mac Pro has four PCIe slots. That means there are a slew of PCIe expansion cards available—you can use them on Thunderbolt iMacs, Mac minis, MacBook Pros, and MacBook Airs through an adapter box.
The Echo Express PCIe 2.0 Expansion Chassis houses one PCIe card; insert the card into the Chassis, connect the Chassis to your Mac's Thunderbolt port, and you can use the card. The Chassis will be available in two sizes, one size to house half-length cards, and another size for full-length cards.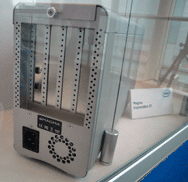 The Magma ExpressBox 3T is also a PCIe card adapter box, but it houses up to three PCIe cards, not just one. Magma also includes a travel bag, in case you decide to bring it along with your Thunderbolt-equipped MacBook Pro or MacBook Air.
More Thunderbolt devices
Several other Thunderbolt products were on display at the Advanced Technology Zone in IDF. The Matrox Thunderbolt adapter is designed to work with the company's current lineup of MXO2 video editing devices (Thundebolt-equipped MXO2s will be available in September). The Promise SANLink is a Fibre Channel-to-Thunderbolt adapter that allows Macs to connect to high-speed Fibre Channel SANs.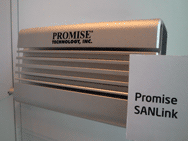 The LaCie Little Big Disk was one of the first Thunderbolt-equipped hard drives announced, but it has yet to hit the market. If you don't have a 17-inch MacBook Pro but would like to use ExpressCard/34 expansion cards, the $150 Sonnet Echo ExpressCard/34 Thunderbolt Adapter is what you need. It allows you to use ExpressCard/34 cards via Thunderbolt.
[Roman Loyola is a Macworld senior editor.]