For iOS games, it appears that the bird is the word. Be they angry, tiny, or flightless and aquatic, birds have become the protagonist of choice for many a successful iPhone and iPad game.
The latest member of the flock to flap its way to the top of the App Store downloads chart is Early Bird, available in either iPhone or iPad formats from Booyah. Early Bird doesn't exactly break new ground in gaming, but it offers a fun way to pass the time and some adorable graphics of baby birds and their sneering worm enemy.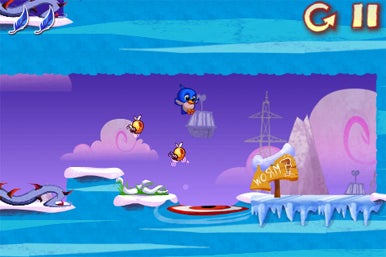 You control Early Bird in his journey to get from Point A to Point B—Point B being a wormhole populated by an attitude-laden worm. Flicking your finger across the screen sends Early Bird on his way, but you've only got so many flicks for each stage of the game. A number of obstacles—changing terrain, thorns, swinging wooden blocks—stand in your path, but other objects—spring-equipped flowers and gusts of wind—can help you on your journey.
Like all good physics puzzlers, levels become more complex and challenging to solve as you progress through Early Bird. That bolsters the game's replayability. Not only do you have to muster up the skill to advance from one level to the next, you'll also find yourself going back to already-completed levels to try and improve upon your score. With 96 levels across four landscapes—and the promise of more to come—that's a lot to keep gamers coming back for more. (The game offers a $1 in-app purchase where you can transform into a phoenix for getting past trickier levels as well as unlock a bonus game, but I find I enjoy the challenge of trying to solve the puzzles on my own; your milage may vary.)
Booyah touts HD graphics in Early Bird, but I can't pretend to be blown away by what I saw. (Admittedly, I tested the iPhone version on a 3GS and not a Retina display-sporting iPhone 4.) Still, the cartoon look-and-feel of the game is pretty darn cute; the worm's expressions alone are priceless.
It would be unfair to call Early Bird derivative—the game is more than successful on its own terms. Still, given all the fine-feathered friends who populate the App Store, there's an undeniable "me too" feel to the game that I found hard to shake. Early Bird is unlikely to make anyone forget about the Angry Birds franchise or Tiny Wings, but not every casual game needs to be iconic to be enjoyable. There's plenty of fun to be had in Early Bird, and as a free download—at least for a limited time as of this writing—there's no reason not to give this pleasant casual game a try.
[Macworld.com editor Philip Michaels now sees bird-themed iOS games in his sleep.]