We've heard a lot about iOS 5's marquee features—the new Reminders app, Notifications, and changes to the Camera and Photos app, to name a few—both on-stage and on Apple's iOS 5 website. But as the company hints, the iOS update arriving next week comes packed with more than 200 other improvements and hidden gems into the operating system.
As iOS 5's October 12 release date draws close, you'll hear plenty about the update's big features. For now, let's take a look at some new features that may have escaped your attention.
Text improvements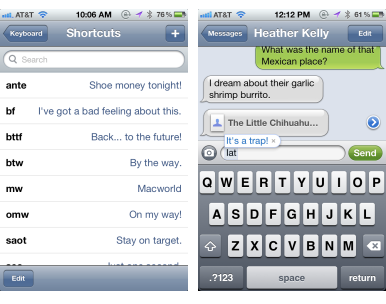 If you work with text on your iOS device, you may be pleasantly surprised at some of iOS 5's improvements. One of the neatest (and most-welcome) new features is support for text and phase shortcuts. In the Keyboard sub-menu, under General, you can set short phrases that expand into full sentences, numerical phrases, and so forth. (The default shortcut is "omw", which expands into "On my way!") While this may not cure texting teens of their obsession with acronyms, it should prove useful for expanding email addresses and saving additional mail signatures. Another neat trick: If you're finding that iOS likes to correct certain words that you use often, you can enter that word in as both shortcut and expansion to ensure that your word stays firmly uncorrected.
Other new text-related features include separate auto-correct and spellcheck settings (for those who want to know when they're spelling something incorrectly but not have the device automatically fix it for them); a new Define option, available by tapping and holding on a word; an Emoji international keyboard; and, for iPad users, a spiffy split keyboard option for typing using your thumbs (to do this, you can either perform a reverse pinch on the on-screen keyboard while open, or tap and hold the keyboard button in the lower right corner of the screen).
Custom alerts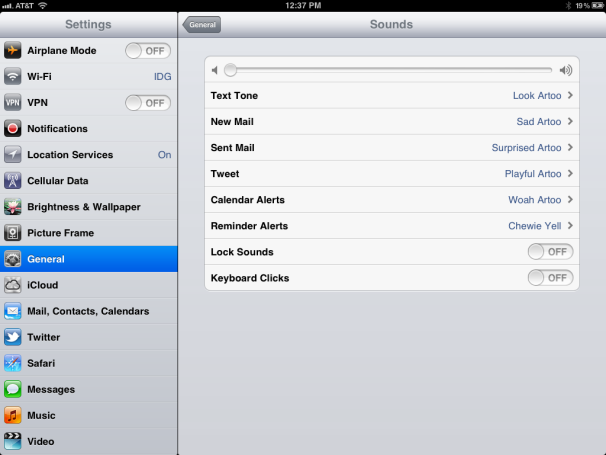 Name your iPhone after everyone's favorite astromech droid and have it sound like him, too: You can now use custom tones for text messages, voicemail, email, tweets, calendar alerts, and reminders. (You can also specify custom ringtones, text tones, and vibrations for each of your contacts.)
Don't have any custom tones, and don't want to make your own? A "Buy More Tones" button will take you straight to the iTunes Tone Store, where you can buy all manner of appropriately-themed ringtones.
Configure Wi-Fi base stations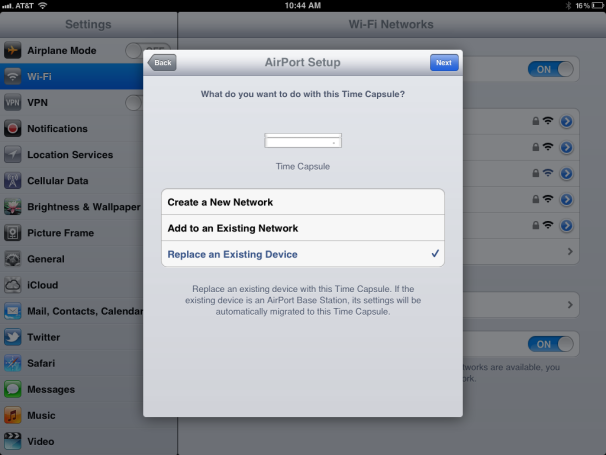 As part of iOS 5's "PC Free" mantra, you won't just be able to set up your iPhone, iPad, or iPod touch without a computer—you'll be able to set up a Wi-Fi base station, too. If you have an AirPort Express, AirPort Extreme, or Time Capsule plugged in near you, you'll be able to set it up to create a network, connect to an existing Wi-Fi network, or replace an existing router, all through your iOS device.
Limit iOS system privileges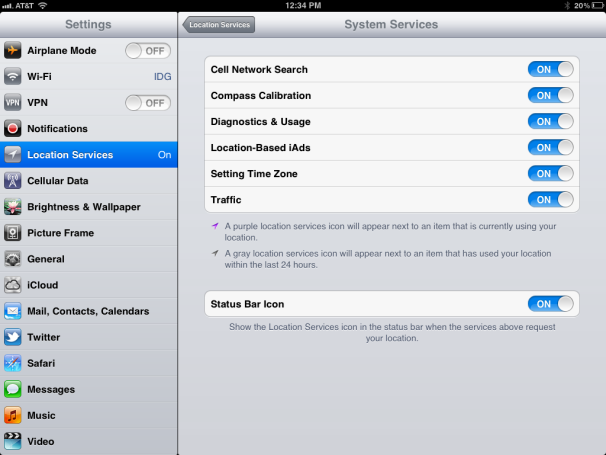 Much hullabaloo has been made over user privacy in the last year, and Apple seems to have taken these complaints into account with iOS 5, adding new limitation options for both location and in-app purchases. If you only want certain apps to have location privileges, or want to turn off specific aspects like Traffic (or Location-Based iAds) altogether, you can do so in the Location Services menu, promoted from the General tab to a category of its own in the main screen. You can toggle which apps can access your location data, and in the System Services sub-menu, which location system functions you want running.
You'll be able to make these changes in General -> Restrictions, if you'd like to put these decisions behind a passcode. Also new to the Restrictions menu: a Require Password toggle for app and in-app purchases, which allows you to choose whether you'd like to be prompted for a password at all times, or whether you want a fifteen minute grace period.
App storage breakdowns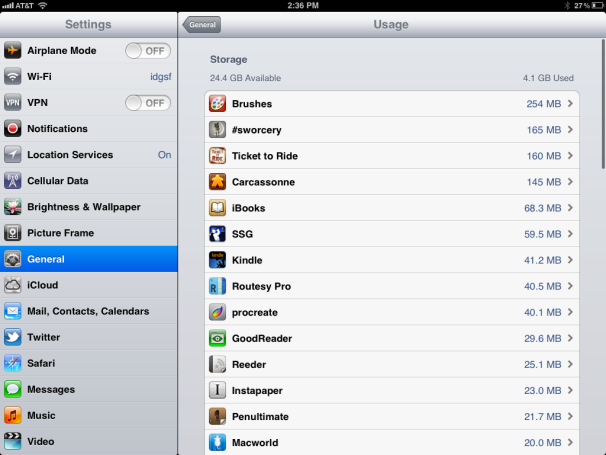 Curious as to just how much space that game of Sword and Sworcery is taking up on your iPad? It will be easy to check in iOS 5, thanks to a newly-redesigned Usage tab, found under General in the Settings app. You can see how much space you have available, how much you've used, and a detailed per-app breakdown of the program's size, as well as its documents and data. You'll even be able to prune apps from your device using this screen, thanks to a big red Delete App button. As for cellular usage, it will be relegated to its own sub-tab, separate from app storage.