Apple has been sure to highlight the apps receiving the biggest changes in iOS 5— Safari, for example—but there are still many new features in iOS 5's other built-in apps that haven't gotten as much attention. With iOS 5 arriving next week, it's high time we looked at some of the goodies awaiting you in the updated versions of Maps, Weather, FaceTime, Contacts, Music, and Video.
Weather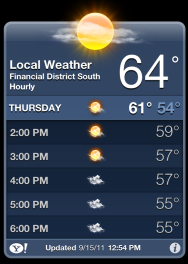 Thanks to iOS 5's Notification Center, Weather already has some nice new functionality, with its live-updating widget. In addition, you'll now be able to get your current location's weather (if you choose to enable that feature).
You can even view an hourly breakdown of temperature changes—complete with the app's cute weather icons—by either tapping on the Hourly text below a location, or by dragging your finger downward on the current day's forecast. This newfound capability brings Weather in line with many popular third-party weather apps for iOS devices, so it will be interesting to see how developers distinguish their products from iOS 5's built-in weather tool.
FaceTime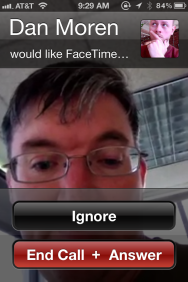 FaceTime gets a little more, well, face time in iOS 5, with new buttons in the Messages app above every conversation; an option in the Settings app to choose what number and Apple ID(s) you can be reached at as well as the Caller ID for what account outgoing calls display as being from; and mid-call conversation alerts. Now, whether you're on another FaceTime call or chatting on the phone, your iOS device will alert you with an interstitial, asking whether you'd like to ignore the incoming call, or end the current call and answer the FaceTime request.
Maps
When you first open Maps in iOS 5, it looks—by and large—the same as its iOS 4 iteration. Look for directions, however, and you'll find that you now have access to multiple suggested routes (up to three). To choose a route, tap it and press start; from there, you'll be given directions to follow (though you can switch to another route at any time). You can even print out your directions using a new Print button.
iPhone and iPod touch users will also be able to choose what mode of transportation they'd like to use—car, public transportation, or walking—when first entering directions, rather than having to choose after an initial route has already been charted.
Phone and Contacts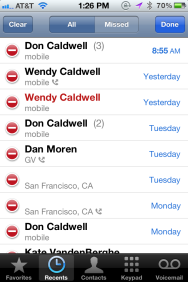 With all its functionality, it's easy to forget the iPhone also lets you make phone calls. Anyone who actually uses the Phone app should be delighted by two new iOS 5 features: incoming call location display, and per-call deletion from the Recents list. Now, when you receive a call, your phone will display (if possible) the location of the incoming conversation—previously, locations only displayed in the Recents list. And speaking of that list, you can now delete single calls by swiping to the right or tapping the edit button in the upper right corner. (If you still want to clear your entire list, you can get to it by tapping the Edit button, then Clear in the upper left corner.)
In the Contacts app, you'll be able to link multiple entries together using a "Related People" option; you can designate a linked contact as mother, father, parent, brother, sister, child, friend, spouse, partner, assistant, manager, other, or a custom label.
Music and Video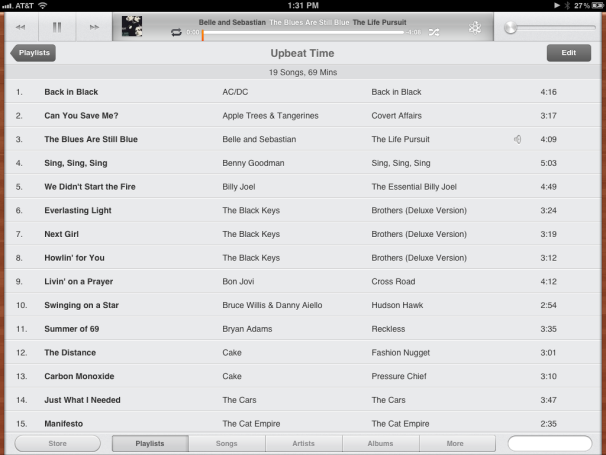 There's been a lot of under-the-hood work done to both Music and Videos apps; the iPad Music app has an entirely new interface reminiscent of a retro-future '70s cabinet, while on the iPhone, the iPod app is no more: The device now sports Music and Videos apps, like its other iOS siblings. And for those who like streaming their music and have newer Bluetooth stereos, you should be able to see album, track, and artist information, thanks to underlying support in the Music app for AVRCP 1.3. Within the apps themselves, you'll be able to delete songs, albums, and artists off your device, or tap and hold on a category for extra information about it.