I've got a lot of music in my collection, and some of it in box sets of varying sizes. From a 37-disc set of Schubert's lieder, to an 80-disc set of all of Glenn Gould's recordings, to a 98-disc set of Shakespeare's plays, to a 172-disc set of Bach's complete works. With all these box sets, my shelves are full. Recently, another one arrived: a 73-CD set of the Grateful Dead's Europe '72 tour; all 22 concerts recorded during the tour.
Since I convert all my music for iTunes and iPod playback, ripping a big box set calls for certain strategies. Here are the steps you should consider when ripping large sets, and how you can deal with the specific problems they can present.
Do you need CDs?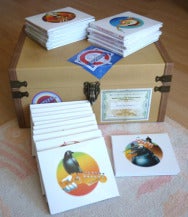 Let's start by asking a pertinent question: did you really need to buy all those CDs? Not that I'm suggesting that you shouldn't buy the music, but in some cases, you could buy downloads, already nicely compressed and tagged. For example, Hyperion Records released a 99-CD box set of all of Franz Liszt's piano music, but the company also released a download version of the set. You'd save money (in this case, it's £100 less than the CD version), space, and—above all—time ripping the discs. And you could buy them in lossless FLAC format if you prefer, so the quality would be the same as the CDs. In addition, the files are perfectly tagged, and contain album art and texts about the works.
But downloads aren't always an option. The Grateful Dead's Europe '72 set is only available on CD, as is the case with many other box sets (and in limited quantities, to boot). And in some cases, download versions of box sets may cost more than CDs.
Get ready to rip
With a big box set, you need to set aside time for ripping. You may want to do it a few discs at a time, or you may want to spend a weekend with your CDs and iTunes. Before you start, however, you need to consider a few things.
First, what format and bit rate will you use? If you're planning to use the same settings as you use regularly, then you don't need to change anything. But if this box set needs different settings—you want to keep archival copies in lossless format, say—you should change your import settings in iTunes.
If you're importing large audiobook sets, you should be aware that some special techniques are likely in order.
Tag albums
You should decide on a common way to tag the various discs in your set. For my Grateful Dead set, I have three choices. I could:
Label each disc with "Complete Europe '72," and make sure each CD has the appropriate disc number (1 of 73, and so on).
Label each disc separately, such as "1972-04-08 – Wembley Empire Pool, London, England, Disc 1," as each disc is part of a concert; in this case, there are multiple "albums" in iTunes for each concert.
Label each concert, with each disc set accordingly: "1972-04-08 – Wembley Empire Pool, London, England;" disc 1 of 4, and so on; in this case, each concert appears as one "album" in iTunes.
I chose the third option, in part because it makes sense to me to group tracks by concert, but also because they are organized that way in the CD sleeves as well. However, for Hyperion Records' " Franz Schubert: The Complete Songs", I chose to create a single "album" with 37 discs, and a second with three discs (the set includes three CDs of music by Schubert's friends). This set is presented chronologically, and it makes sense to organize the tracks in this manner. I could have tagged them as "Schubert: Complete Songs, Disc 1," and so on, however, which would make it easier to choose one disc at a time to enjoy rather than picking a starting point somewhere among 800 tracks.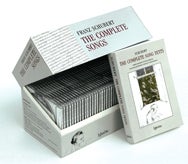 Make sure that you know whether the box set is a compilation or not, and tag the discs accordingly. The compilation tag can be annoying, so try and use it correctly right away so you don't have to later change it for hundreds of tracks.
Add album art
We've written about adding album art to your music in iTunes, and if you're ripping a box set you have two possibilities. You could either use the same graphic for all the music, which saves a lot of time, and works best with certain box sets where individual discs have don't have distinct sleeves. Otherwise, you might want to use a different graphic, corresponding to each sleeve, for each disc. Often, box sets have sleeves that you won't find via a Google search, so if you choose the latter, you may need to scan the sleeves yourself. (Some nice person has already scanned the cover art for each of the shows in the Grateful Dead box set, by the way, and you can download the images from his Picasa gallery.)
Rip faster
If you have a lot of discs, you may want to find ways to rip them faster. My current solution is to use a small iTunes library when ripping, as this speeds up the process considerably. I've been ripping my Grateful Dead discs on my MacBook Air, with an external SuperDrive, which is nearly as fast as my iMac, since the iTunes library it holds is quite small. I copy them to an external hard drive, then to my iMac to add to my full iTunes library.
There also may be reasons why you might want to rip these CDs with something other than iTunes.
Back up your files
It's never out of place to remind you to back up your music files, as well as all the rest of the files on your Mac. When you rip a CD from time to time, you don't realize how much time it takes; when you rip, say, 60, 80, or 100 discs, you realize how all that time adds up. So back up your media files and do so regularly.
With all this in mind, you can set out ripping even the biggest box sets. You'll need a bit of patience, but, in the end, it's worth it to have all your music accessible in your iTunes library.
[Senior contributor Kirk McElhearn writes about more than just Macs on his blog Kirkville. Twitter: @mcelhearn Kirk is the author of Take Control of iTunes 10: The FAQ.]