While the Mac App Store brings its fair share of benefits—including the ability to quickly and easily update all your software—it can be an annoying proposition for for those who have bought software from outside the store, such as directly from the app's developer. If you want the perks of store-bought software for your already installed programs, you have to buy apps a second time. While Apple hasn't made that process any easier, it's at least started offering a warning before you shell out your hard-earned cash again.
Now, when you attempt to purchase an app from the Mac App Store that you've already installed from elsewhere, you'll be prompted with the following dialog box: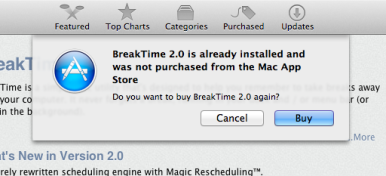 Though this doesn't really reduce the pain of having to pay a second time for the same app, it does at least give less savvy users a heads-up before they accidentally buy a program all over again.