This week's roundup of accessories for your iPhone, iPad, and iPod includes a number of new speaker systems, as well as options for charging your i-devices, using your iPad in the kitchen, and mounting your tablet on your hand or leg.
Altec Lansing: The veteran audio company has unveiled the $150 iMT630 Classic sound system, which features an iPhone-charging dock as its centerpiece. The portable system includes a rechargable battery, and it can be operated using either onboard controls or the included remote control. Altec Lansing also provides several iOS music apps available, including Music Mood and Alarm Rock, that let users manage their music while their iPhone is docked in the speaker system.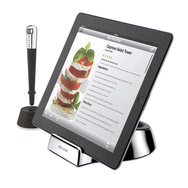 Belkin: The iPad and cooking go together like chocolate and peanut butter. At least, that's what Belkin is betting with a trio of new products. The $40 Chef Stand lets you use your iPad as a cookbook, propping it up to let you flick between recipes. the stand features a rubber base to prevent sliding and spills and includes a capacitative stylus for using using the tablet even if your hands are covered with flour and grease. The $40 Fridge Mount ensures you have a great excuse for never posting your child's drawings on the refrigerator again—unless, of course, those drawings were made using an iOS app and displayed using the tablet's slideshow feature. The $50 Kitchen Cabinet Mount, meanwhile, uses an adjustable clamp to let you use the iPad without cluttering up precious cabinet space.
Fuse: If you're anything like us, you sometimes juggle charging several iOS devices using a single power outlet. Fuse's $50 PowerSlice lets you charge four different electronic devices at the same time. The Fuse includes the base unit along with two iPhone-compatible charging "slices"—but those two slices take up just half the charging unit. Drop some extra cash and you can buy additional slices that use Micro- and Mini-USB ports to charge phones, cameras, and other electronic devices. Slices can be swapped out depending on your particular charging needs at the time.
LapWorks: Sometimes our wrists get sore from hours of iPad use. LapWorks's $30 Handler iPad Strap & Desk Mount aims to solve that issue with a mount that can be strapped onto your hand for ergonomic-reading ease. The device includes a swiveling mount, so you can rotate the tablet for landscape or portrait viewing; when you're ready to put the iPad down—but still want it in sight—the mount attaches to a desktop base, forming a multi-angle stand.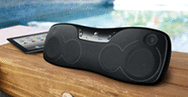 Logitech: Among Logitech's recent releases are the $150 Wireless Boombox, which lets you stream audio (over Bluetooth) from up to 33 feet away—for up to six hours on a single charge of its rechargeable battery. The $70 Wireless Headset performs much the same function with iOS and other Bluetooth-enabled devices, only over headphones. It also includes Bluetooth headset functionality for those times you have to put the music on hold and make an important phone call. The headphones "fold up like sunglasses" for maximum portability when not in use.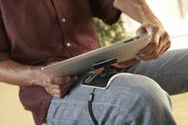 Rocketfish: Best Buy's store brand of accessories now includes the $40 PadPivot Stand, a tablet mount that you can attach on your thigh for lap use. The curved base can also sit on a flat surface, and the rotating joint lets you view your iPad in either portrait or landscape orientation. The PadPivot comes with a strap for when you've positioned the stand on your leg and want some extra stability.
Solid Line: This company's $99 RightShift Bluetooth keyboard case has been recently updated for compatiblility with the iPad 2. The one-pound keyboard runs up to 90 hours on a single charge—it recharges in about four hours—and includes a Micro-USB charging cable. The leather case is available in black, white, brown, or red.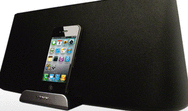 Sony: The electronics giant continues its encroachment into the iOS accessory market—last week we told you about the company's new AirPlay-enabled wireless portable speaker—with the $300 RDP-X500IP Speaker Dock for iPod, iPhone, iPad. The system includes a subwoofer and damperless speakers, and it charges your iOS device while it plays music from. Using Sony's D-Sappli app, owners can use the system as a clock radio of sorts, with a time display and a timer that allows you to schedule when the music starts playing. The system also includes a remote control for operating both the speakers and your iOS device.
USBFever: One of the most prolific creators of iOS accessories is back with more. The $93 Multi-Function Dock for iPad acts as a compact charging/syncing cradle for your tablet, but it can also output video from your iOS device to your TV and serve as act as a handy USB hub and memory-card reader for your computer. The dock is compatible with both generations of iPad, as well as most recent generations of iPhone and iPod.