Reader David Simon can't locate a feature he was accustomed to using with his old Mac. He writes:
I recently purchased a MacBook Pro and am using Lion. On my old Mac I used a mouse, which I was able to configure so that when I held down the Control key and pushed the mouse's scroll ball up, the screen would zoom in. I'm now using a trackpad and can't figure out how to get this feature back. Any idea?
Yes. If you were to plug a mouse into your laptop and open the Mouse system preference, you would see, at the bottom of the window, the Zoom Using Scroll Wheel/Ball When Holding Control option. Enable that option and, as you're aware, when you hold down Control (or another modifier key you've chosen) and flick up on the scroll wheel or scroll ball, the screen zooms in.
However, because you're not using a mouse, selecting the Mouse system preference does you no good as it simply tells you that it can't detect a mouse. And moving to the Trackpad system preference is just as fruitless. It will show you plenty of gesture options but none of them do what you're asking for. The Zoom In and Out gesture works only with certain applications such as iPhoto—it does you no good in the Finder or in unsupported applications.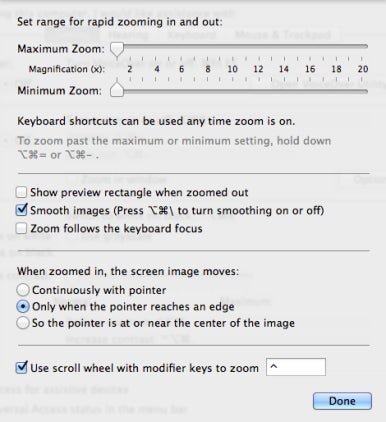 The option you're looking for is tucked away in Universal Access. Launch that system preference, select the Seeing tab, and in the Zoom area, click the Options button. At the bottom of the resulting sheet you'll see a Use Scroll Wheel With Modifier Keys to Zoom, followed by the symbol for the Control key. You can select that symbol and press a different modifier key to assign Option or Command to this shortcut. Don't let the words "Use Scroll Wheel" dissuade you. When you enable this option and then click Done, just hold down Control (or the modifier key you've assigned) and swipe up with two fingers on your trackpad to zoom in. Hold down that same key and swipe down to zoom out.