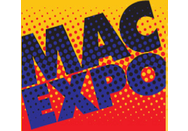 Northern Californians itching for a day of Mac and Apple goodness from a whole bunch of great speakers: The North Coast Mac Users Group will host its 18th annual Mac Computer Expo (MCE) on October 1 at the Petaluma Community Center.
This year's lineup of speakers at MCE includes our own editorial director Jason Snell, senior editor Christopher Breen, and contributors Ted Landau, Derrick Story, Jeff Carlson, and David Sparks—among numerous other Apple experts. (Snell will help open the event by participating on the the 9 a.m. panel called iFuture Continued.)
More than two dozen exhibitors will be present at the Mac Computer Expo, too, including Smile, Wacom, Boinx, and, yes, Macworld. Find the Macworld table and you'll also get the chance to meet editor Philip Michaels and staff editor Serenity Caldwell.
Included on the schedule are sessions on editing in iMovie for iOS, home media centers, and the Mac at Work. There are beginner and advanced sessions on the iPad, along with sessions on Lion, image editors, and using the iPad as a musical instrument.
And yes, the entire event is free, including parking. Locals looking to meet other Mac devotees and a major chunk of the Macworld brain trust should be there, or be a rectangle where all four sides are exactly the same length. The choice is yours.