If you haven't yet experienced the wonder of thinking with portals, there's never been a better time to start: Valve has made Portal free for the Mac and PC until September 20 as part of its "Learn with Portals" initiative.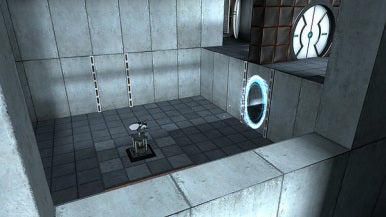 When Valve's Steam digital game distribution service came to the Mac in May of 2010, the company made Portal free for a limited time to entice Mac gamers; Friday's promotion, however, has been touted by Valve as a learning initiative, helping kids in classrooms learn about physics through gameplay.
As those who have played the game might know, Portal, which premiered in 2007 as part of Valve's The Orange Box to great success, focuses on a series of physics puzzles involving momentum redirection and object manipulation. A sequel—aptly named Portal 2—was released earlier this year.
Portal normally sells for $10 in Valve's store; if you haven't played it, now's the time to strap on a set of Long Fall boots and start testing. You can download it for free using the Steam store (though you'll need to create a free account if you don't already have one).