Reader Truman Lyon looks to the future and doesn't like what he sees. He writes:
I have a MobileMe picture gallery that's linked to my website. I have learned that MobileMe will cease to exist sometime in the next year and I wonder if there is any way I can keep my gallery and be able to link to it from my website.
Three significant components of MobileMe will disappear at the end of June 2012—iWeb publishing, iDisk, and Galleries. When July 1, 2012 rolls around, any links you have on your site to your MobileMe gallery will be dead, dead, dead and there's currently no option for migrating it in its current state to another site. So yes, it's time to make plans.
First, if you don't have a local copy of your images, download them from MobileMe. Apple's MobileMe: How to Save Your MobileMe Gallery Photos and Movies document provides the details. (Your options include downloading them via iPhoto '08 – '11, syncing these albums with Aperture, and downloading them directly from the Web.)
There are many places on the Web where you can create photo galleries, though not all are free (but then, neither was MobileMe). Flickr allows you to upload up to 200 photos for free. To post more than 200 you must upgrade to a Flickr Pro account, which costs $25 per year. Flickr has many advantages, including multiple ways to tag your images and an emphasis on sharing images with others. It's also an export option within iPhoto and can be accessed from an Apple TV.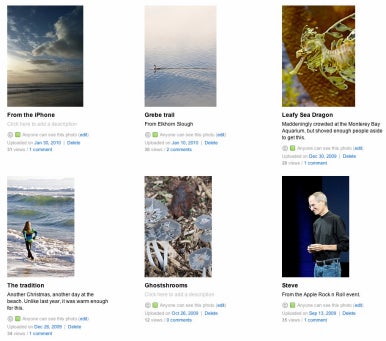 Google's Picasa is another free option. With Picasa you can not only share 1GB-worth of photos for free, but also edit them using Google's Picasa Mac software. With Picasa you get what you pay for in the form of not-terribly-attractive galleries.
SmugMug is a pay-for option. For $40 a year you can upload an unlimited number of photos (a plan that includes video uploading costs $60 a year) as well as embed Flash slideshows in forums and blogs. SmugMug's galleries are more polished-looking than either Flickr or Picasa's.
We have a helpful bunch here. Check out the comments that accompany this story and I'm sure you'll find some other worthwhile recommendations.