Many iOS applications try to do one thing and do it really well—or they take two different functions and try to combine them into one cool new thing. Knowtilus and Knowtilus Pro, a pair of universal apps, go in a different direction: They try to do everything. It's almost too much.
Knowtilus is a web browser. And a text editor. And an RSS reader. It converts written text to speech, from both the Web and your written documents. (It can do so, incidentally, in 20 languages, using 52 voices.) It can translate written text to 28 different languages. If you're in the mood for drawing, there's a sketch pad. One assumes there aren't even more features to Knowtilus because the developers simply ran out of time before releasing it to the App Store.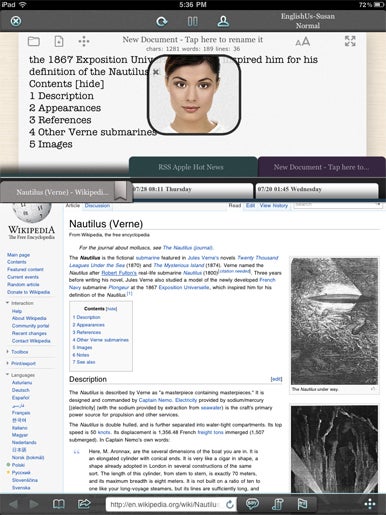 All these features do seem to serve a purpose. The iPad, in particular, got stuck with a rep early on that it was for consuming media instead of creating it, in large part because users were forced to single-task—if you wanted to write, you could use a writing app, but you had to switch out to a browser to do the research. It was a cumbersome setup for, say, bloggers looking to respond to the latest news story.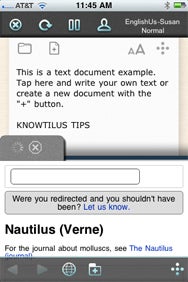 Knowtilus solves that issue by letting users have both the text editor and a browser and an RSS reader open at the same time; users can size the window of each according to their preference, and shift back and forth easily. (Both versions of Knowtilus are optimized for all of Apple's iOS dveices, but the iPhone simply doesn't doesn't have the real estate to accomodate all those windows very well.) One problem, though: The browser is far from easy to figure out—URLs are entered at the bottom of the window, not the top, and other navigational items are similarly perplexing.
Documents composed in the text editor can be shared directly to Evernote, Tumblr, or Twitter. It would be easy to complain about the blogging services left off that list—no WordPress or Blogger?—except that those services are easily available through the browser, and it's no problem to cut and paste.
The main difference between the $10 Pro and $5 regular version, incidentally, is that the pro version will convert a lot more text to audio before stopping; the lite version stops after a few sentences. (The developer also promises a more powerful multiview mode for browser tabs in the Pro version, though it didn't strike me as noticeably different.) Unless you need or love to listen to creepy computer voices, save your $5.
For that matter, it's worth noting that many of the features offered Knowtilus will be available for free to all iOS users when iOS 5 arrives later this fall: Tabbed browsing in Safari, reading lists, and the ability to more easily multitask by shifting between apps. Add to this that Knowtilus has so many moving parts that it has its own YouTube channel to guide users through basic-but-unintuitive tasks, and it seems the app's advantages are about to be nullified.
The ambition of the Knowtilus apps is great. The actual product seems a little jumbled. And Apple is about to render much of it moot. As good as the apps are, iOS multitaskers might want to hang on to their dough.
[Joel Mathis is a freelance journalist and political columnist for Scripps Howard News Service. He lives in Philadelphia.]