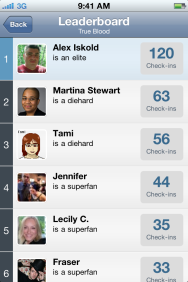 The entertainment-oriented social-networking site, GetGlue, has been allowing users to check-in and talk about their favorite (or least favorite) movies, TV shows, books, video games, and sports teams since 2009. On Tuesday, an update to the website and iPhone app will allow users to easily filter through the chatter to find the most interesting comments about their favorite shows, as well as compete with their friends to see who has seen the most episodes of Wheel of Fortune.
The first major update to GetGlue is to the app's Conversation feature. When users check in to a topic, they will immediately see a filtered feed of information about it. The filter prioritizes check-ins from the user's friends, and then fills in the rest of the Conversation.
"Whether you are a teenage or a senior citizen, you are into entertainment," Alex Iskold, founder and CEO of GetGlue, told Macworld. "And people love to socialize around entertainment."
While GetGlue's Conversations are similar to Twitter, the app aims to present the information in a different way in order to filter out the chatter of the masses and give the user a stream that is more relevant to their interests.
"You are getting real time, but filtered so it actually ends up being more insightful," said Iskold. "I have personally never wanted to respond to strangers, but with the filter, I am more compelled to."
Besides the Conversations update, GetGlue will also start using a Leaderboard to track people's check-ins and rank them against their friends to see who is a "diehard" and who is a "superfan."
"I can say 'Hey, I'm a bigger fan. Check the Leaderboard!" said Iskold about using GetGlue as a measurement of bragging rights. "Or I can ask my friends about a show based on how many times they check in."
GetGlue has seen a substantial increase in popularity in 2011, going from 5 million check-ins in May to 11.5 million in August. This update, in combination with the start of the fall TV season, could be a recipe for even more growth.
"We are at the point where we ask 'are we ready to cross the gap and go mainstream?'" said Iskold. "With this update, we hope to become an everyday app for a lot of people."
Version 2.5.2 of Get Glue for iPhone is available in the App Store; it requires iOS
Updated at 9:45 a.m. PT to clarify that the figures referred to number of check-ins on the service, not number of users.