If you've been skeptical, suspicious, or cynical over Apple's ground-up rewrite of Final Cut Pro, Tuesday's 10.0.1 update may well spur you to give the software another shot: The company has not only restored several much-needed features for professionals, it's also offering wary non-linear editors a free 30-day trial and a PDF booklet to help transition from Final Cut Studio.
Final Cut Pro X 10.0.1 and beyond
Available as an update through the App Store, Final Cut Pro X 10.0.1 adds several much-requested features, including support for full XML import/export of both project and event information; intelligent stem export for both video and audio files using a new feature called Roles; and Xsan integration, allowing editors in different locations to work with the same files, events, and projects.
"The professional [editor] is critical to Apple, and it's a customer we don't want to lose," said Richard Townhill, Apple's director of pro video product marketing, in a conversation with Macworld. Comparing Final Cut Pro X to Apple's transition from OS 9 to OS X and the switch from PowerPC to Intel processors, he called the June 10.0 release "the first foundation stone in a building that's going to be assembled over the next ten years," with Tuesday's updates providing the next brick.
One of the biggest complaints from professionals—Final Cut Pro X's lack of XML support, and thus, its inability to interact with outside programs—has been fully addressed in the 10.0.1 release, offering access to both raw source materials (events) and timelines (projects). According to Townhill, third-party developers like Square Box Systems and Blackmagic have been experimenting with beta versions of FCPX's new XML interchange, integrating it with existing products, like Blackmagic's DaVinci color correction software. "Final Cut Pro X is [no longer] an island," Townhill joked. "It works and plays well with others… we have a healthy network of third-party developers, and are very excited about what they're going to do."
Third-party developers seem pretty excited themselves. "We are back in business with FCPX now that the XML option has become available," said Philip Hodgetts, an NLE consultant and president of software company Intelligent Assistance, in a statement provided to Macworld.
In concert with XML support, the update also offers intelligent stem export from project timelines using FCPX's new Roles feature. Using this, editors can export audio, video, and graphics; but rather than having to individually disable and reenable tracks to extract the correct files for a particular post-production workflow, an editor can tag various content as "Dialogue" or "Sound Effects" as they go. When it comes time to export, Final Cut will only look for the tags specified, simplifying the process.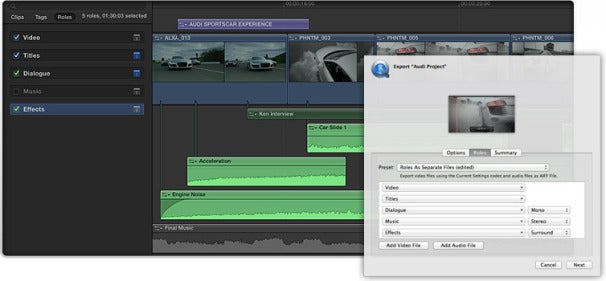 Despite the minor incremental update number, 10.0.1's improvements go beyond just XML and stem support: As mentioned above, editors can remotely collaborate on footage, events, and projects using Xsan, which FCPX now supports. Also included is support for timecode start customization; GPU-accelerated export; full-screen mode in Lion; one-step transitions for connected clips; a new theme; and a camera import SDK, which enables manufacturers to ship a product that will be fully compatible with FCPX from the start.
"The App Store has allowed us to do something quite new," Townhill said, "to get a rapid release out within three months, addressing the feature complaints of our top-end professionals." And, in an unorthodox move for Apple, he revealed a glimpse of future features to come: Townhill noted that while there are still things professionals desire that have yet to make it into FCPX—like multicam editing and support for broadcast video monitoring—Apple is "fully committed" to delivering these in an update in 2012.
Trials and transitions
The large differences between Final Cut Pro X and its predecessor, Final Cut Studio, have put many editors off, making them wary of dropping $300 on a program that's more rewrite than update. As such, Apple has decided to offer these editors an olive branch, and provide a free, fully-functional 30-day trial of the software, available for download from the company's website. If you have Final Cut Studio installed, the FCPX trial can peacefully co-exist alongside it—no need to create a separate partition.
"We want [non-linear editors] to join us on this journey and continue to learn Final Cut Pro," said Townhill. "We're really committed to that professional space." The company has additionally released a free guide for Final Cut Studio editors interested in transitioning to Final Cut Pro X; the PDF booklet, titled "Final Cut Pro X for Final Cut Pro 7 Editors," will also soon be available for download from the Final Cut website.
Will these changes in both software and policy be enough to placate professional editors? Perhaps not entirely, but it seems obvious by the company's actions that Apple is—at the very least—committed to listening and incorporating feedback from its professional base. Either way, if it's enough to re-pique your curiosity, you can download the Final Cut Pro X trial from Apple's website, or purchase FCPX from the App Store; those who have purchased the software already can upgrade to 10.0.1 from the App Store Updates page for free. (As of this article's publication, the update was not yet available.)
Updated at 8:21 a.m. PT to add direct links to the free trial, additional 10.0.1 features.