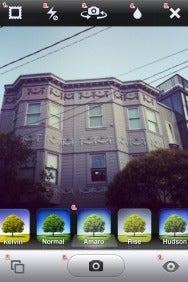 Instagram on Tuesday unveiled version 2.0 of its popular photo-sharing app. The update adds new filters, live filter previews, instant tilt-shift effects, more border controls, high-resolution photos, and rotation controls.
Live filters let you see how your filtered photo would look before you snap the virtual shutter. You can still switch your filter after you take the photo, if you prefer. And Instagram says that filters are now 200 times faster than before, which should save precious seconds between taking your photograph and sharing a deeply-saturated version of it with your friends. You can similarly get live previews of the tilt-shift effect, and Instagram says that the effect is now applied 100 times faster than it used to be.
The new border controls allow you to enable or disable borders on a per-photo basis. Thus, if you love the Nashville filter but aren't a fan of the orange lettering in the border, you can now turn the border off but keep the overall visual effect intact.
And perhaps no new Instagram feature will be more welcome than its higher-resolution photos. No longer are images limited to 612-by-612 pixels. On the iPhone 4, photographs render at 1936-by-1936 pixels; on the 3GS, you're limited to a 1536-by-1536 resolution.
Back in August, Instagram crossed the 150 million photo mark. The wildly-popular service has also spawned an ecosystem of its own, with developers creating compatible Mac apps like such as Carousel, InstaDesk, and Instaview; websites like Webstagram, Followgram.me, and Inkstagram; and integrations with iOS apps like Flipboard. And all that success comes while Instagram itself exists solely as an iPhone app, though the company says it's looking into creating Web and Android apps, too.
Instagram remains free, and requires iOS 4.2.1 or above.