At a Glance
Expert's Rating
Our Verdict
Over the years, Photoshop Elements has evolved from a de-featured version of its Photoshop CS cousin into a full-featured product on its own. In the brand new version 10, new features abound in the Editor as well as the Organizer, with a focus on enhanced creativity, mobile interconnectivity, problem solving, and simplicity.
Elements Editor
One of the signature features of Elements has been its Guided Edits. These are step-by-step techniques designed for the novice user, to achieve a particular task that you may otherwise have no idea how to accomplish.
Elements 10 offers three new Guided Edits, including an effect popularized by photographer Michael Orton, which develops a photo in numerous ways with different colors and focuses to achieve a soft, dreamy effect. The new Depth of Field lets you apply a blur by either dragging with the Gradient tool or by creating a selection of the area you want to remain in focus. The Picture Stack edit divides a single photo so that it resembles a stack of Polaroid prints tossed onto a table. You can choose to divide your photo into 4, 8, or 12 prints, and pick border size and background. If you switch to Full Edit mode, you can resize and resposition the frames. It's a great way to spice up a group photo.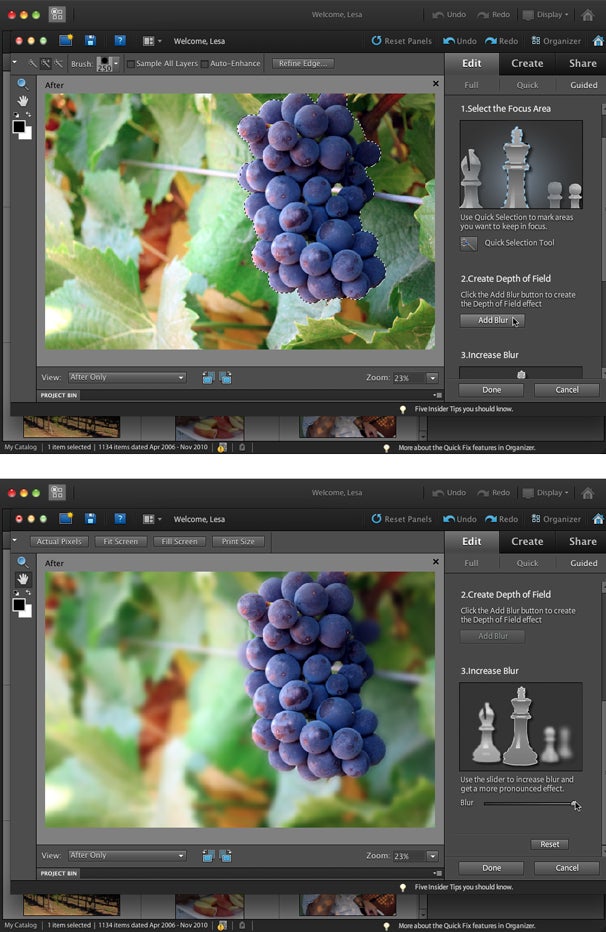 Also included are 30 new Smart Brush effects and filters, which let you paint effects such as Pencil Sketch and Oil Pastel onto a portion of your image. To save you from having to be precise, Elements uses Photoshop's smart selection capability to identify the edges of an object. You can apply multiple effects on the same or different areas of one photo, so if you want to add Snow (another new effect) to your Pencil Sketch, you can. Because each effect is placed on its own new layer, you can adjust its opacity to fine-tune its appearance, and you never harm your original image.
Happily, Elements 10 sports three new Text tools which you can use to make text follow a selection, built-in shape, or a custom path that you draw. Text on a Shape is super-easy to use: just choose a shape from the shapes pull-down menu, draw the shape, then hover your cursor over the shape. Your cursor changes to an insertion point, and you just click to add text that follows the outline of the shape. When you click off the Shape layer, the shape is hidden and your text remains editable. You can resize and rotate the shape, and add effects to text, but unfortunately you can't flip the text to run inside the shape.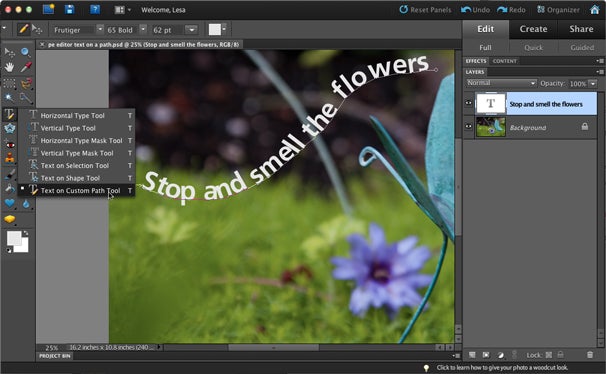 Text on a Selection is useful for wrapping text around an object in your photo. Amazingly, it creates the path for you. Text on a Custom Path is useful for those with steady hands or a graphics tablet. This tool places text on a path you create with the Pen tool. Fortunately, you draw the path freehand and then use the Options bar to refine it. It also gives you control points you can click and drag around, plus you can grab and drag the segments between the the control points (the adjustments to the control handles work automatically).
One of the most practical new features in the Elements 10 Editor is a Crop tool grid overlay. It uses the Rule of Thirds to help you create natural focus points and photo dimensions that appeal to the human brain. Other enhancements include a slide show enhancement wherein the new Smart Pan & Zoom feature lets you mark areas on your images to zoom into or out of, and to mark the areas you want to pan across, as well as starting and stopping points.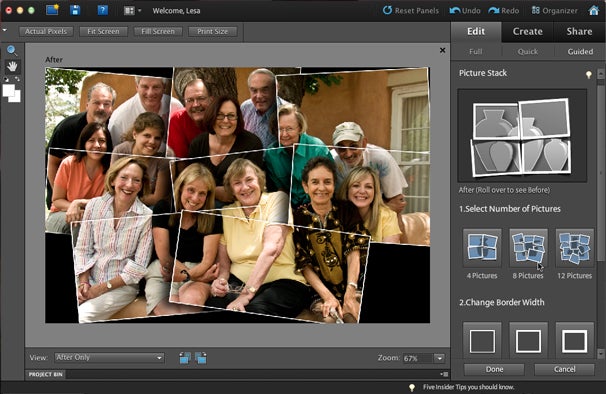 Elements Organizer
The Elements Organizer is barely a year old on the Mac and it's sporting some serious new horsepower in the search realm. The most practical and important new feature in the Elements 10 Organizer may be intelligent Duplicate Detection.
Rather than finding only identical photos, this feature also finds photos that are similar. If you've applied filters or effects to photos, it'll round them up along with the original. Maybe you've taken several quick shots of the same subject—it finds those, too. Once it finds similar or duplicate photos, it sorts and groups them according to how similar they are. From there, select one photo and click "remove from catalog" with the option to delete it from your hard drive. If you don't want to delete photos that are almost identical, you can stack them, which collapses them into a single image in the Organizer so that you can find or work with them together later on. For people who shoot in burst mode or are scared to delete photos, this is a great solution to being lost in a sea of similar photos.
The Organizer also has a near magical Visual Search. Let's say you're looking for sunset photos: find just one sunset photo and drag and drop its thumbnail to the top of Organizer. Elements displays photos according to their similarity to the original photo. It uses both color and shape, and you can use a slider to tell it whether to focus on one or the other. You can even drag multiple shots into the search field, and Elements will analyze simliarities among them to find other similar shots.
The Organizer's new Object Search feature extends the program's Facial Recognition feature to identify other kinds of objects in your photos. To use it, trigger the Object Search from the Search pulldown menu at the top left of the Organzer and then click a photo. Elements places a white box atop the photo, which you can then use to draw a box around the object you want to find. The best matches appear at the top, and it works quite well on well-defined objects with decent contrast.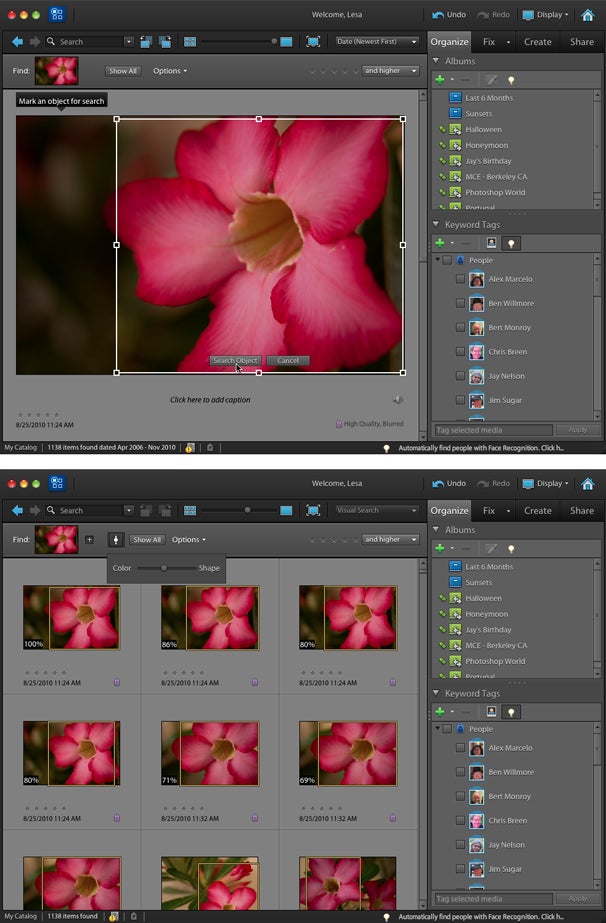 Speaking of faces, integration with Facebook is greatly enhanced. The new Facebook Face-tagging feature accesses your Facebook Friends list to link names to faces in your photos as you type. Then, when you upload your photos to Facebook, they're already tagged! This technique works better than iPhoto's method, which needs the same address in Address Book that the person used to sign up with on Facebook. Unfortunately, to tell Elements to get your list of Friends, you have to click a microscopic text-only link at the bottom of its window (an actual Facebook icon would be welcome). YouTube Sharing, a feature previously available only in Premiere Elements, also lets you upload a video to YouTube. Helpfully, it asks you for information such as title, description, category, and privacy settings for your video.
Rounding out the Organizer enhancements is automatic syncing between multiple devices using Photoshop Elements 10 via Photoshop.com. That service offers 2GB of storage space for free, and you can upgrade to 20GB via the Elements Plus option, for $50 per year.
Macworld's buying advice
If you're on the go, you'll appreciate the enhanced syncing features that keep your photo collection updated on all of your devices (though you'll need to plunk down an extra $50 for the extra storage space of Elements Plus). The Organizer's duplicate detection function will likely save you more than that amount in reclaimed hard drive space (not to mention time). The text enhancements will also thrill scrapbookers and the new Guided Edits are both practical and great learning tools. These features make an upgrade well worth the $80 price tag. However, if you're using iPhoto '11 for importing photos, you already have duplicate photo detection (though it doesn't work on similar photos). In that case, you can probably afford to wait on this upgrade. That said, if you're using Elements 8 or earlier, it's a great time to upgrade for a more full-featured photo editor—one that allows you to create collages—and more.
[Lesa Snider, author of Photoshop CS5: The Missing Manual and coauthor of iPhoto '11: The Missing Manual (Pogue Press/O'Reilly) is chief evangelist of iStockphoto.com and founder of PhotoLesa.com. Twitter: @PhotoLesa]