Wirelessly printing from your iOS device is now a little easier if you own one of a trio of Canon Pixma printers. On Tuesday, Canon announced that three of its all-in-one inkjet photo printers—the Pixma MG 8220, MG6220, and MG5320—have added AirPrint compatibility.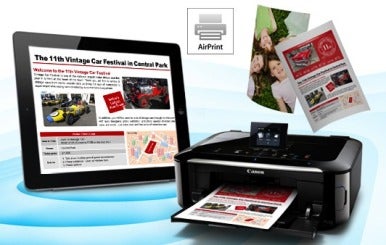 AirPrint first appeared in iOS 4.2; the feature lets users print wirelessly from from an iPad, iPhone, or iPod touch without having to download any software or drivers. Unfortunately, the feature has been limited to a handful of HP printers; owners of non-compatible printers have had to turn to third-party software utilities like Ecamm Network's Printopia.
Other hardware vendors have also come up with their own solutions, creating iOS apps that provide similar functionality as AirPrint. Among them are Epson's iPrint, Brother's iPrint&Scan, and Kodak Pic Flick, to name a few. Each of these apps makes it possible to wirelessly print photos, webpages, documents, or emails directly from an iOS device to the specific company's printers. If Canon's move to make AirPrint-compatible printers spurs more companies to do the same, however, the feature might live up to its original promise.
AirPrint is available on any iPad, iPhone (3GS or later), and iPod touch (3rd generation or later) running iOS 4.2 or later. You can find a full list of AirPrint-compatible printers on Apple's support site, though as of this printing it does not include the Canon Pixma models listed above.