As I write this, I've just finished a talk with Sacramento's MacNexus Macintosh usergroup. At the end of that talk a gentleman approached me and asked:
I have some images on my iPad that I want to move to a Mac. The problem is that it's a Mac that doesn't have a copy of iPhoto on it. How can I get those images off the iPad and on to this Mac?
Backing up a step for those new to this, by default, when you jack an iOS device into your Mac, both iTunes and iPhoto launch. To copy images from the iPad to your Mac, simply select the iPad in iPhoto's Albums pane (if it's not already selected) and click Import All to import all the images on it or select some images and click Import Selected to import just those images you've chosen.
If, however, you don't have a copy of iPhoto on your Mac, you're not lost. You can use Image Capture, a program that most Mac users are completely unaware of. Those who have some familiarity with it generally use it in league with a scanner, but it's also an excellent tool for extracting images from a connected camera or iOS device.
To use it, simply attach your iOS device or camera to your Mac and launch Image Capture. Within the Devices pane you'll see any attached devices that are compatible with the application (this can include cameras, iOS devices, and scanners). Select the device you want to pull the images from—the iPad in your case—and all the images on the device will appear in the main window. Using the application's headers you can sort your images in a variety of ways including by name, date, file size, aperture, depth, color space, width, height, DPI, EXIF, focal length, shutter speed, ISO, location, flash, and maker.
As with iPhoto you can import all the images on the device by clicking on the Import All button or selecting just certain images and then clicking Import to copy those images to your Mac. By default, those images will be copied to the Pictures folder within your user folder.
"Yeah, yeah, yeah," my more experienced (and, may I say, just the tiniest-bit-jaded) readers snore. "We know all about Image Capture. Tell us something we don't know."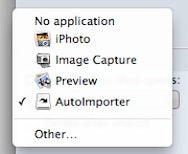 Fair enough. Select your device and from the pop-up menu at the bottom of the Devices pane select AutoImporter so that the bottom of that pane reads Connecting This iPad (or whatever) Opens AutoImporter. Quit Image Capture.
Now unplug your iPad from your Mac and then plug it back in again. The AutoImporter application will launch and—as its name implies—the images on your iPad will be imported to your Pictures folder with no intervention on your part. By default they'll be placed in a folder called, aptly enough, AutoImport. Once AutoImporter has completed its job, it will quit. Should you wish to launch this application so that you can configure where it saves your images you can do so by going to /System/Library/Image Capture/Support/Application/Image Importer. Launch the application, open its preferences, and you can choose a different location using the Import Folder pop-up menu.