There's a lot about Cowboy Guns, a Western shoot 'em up published by Chillingo, to make even the most hardened desperado smile. There's plenty of challenges and a compelling storyline—albeit one delivered with dialogue so stilted that it would make a Roy Rogers picture seem like a Royal Shakespeare Company production. The graphics give the game a distinctive look, and the music sounds like something Ennio Morricone might compose. Clearly, a lot of attention was paid to getting all the details of Cowboy Guns just so.
I just wish that same level of care would have been applied to the game's controls. Because no matter how good the other elements of a game are, at the end of the day, it has to be fun to play. And the controls in Cowboy Guns make the game more frustrating than fun, at least as far as this would-be gunslinger is concerned.
In Cowboy Guns, you control The Kid—the kind of Man With No Name-style hero that Sergio Leone might admire—as he battles the lawless Crimson Jackal gang. The game offers an adventure mode that's heavy on storyline; quick play and survival modes offer further variety to keep things fresh. So far, so good.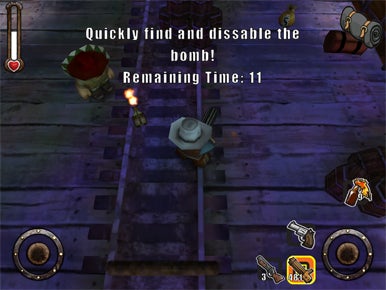 The trouble begins when it's time for The Kid to start dispensing some frontier justice. A virtual D-pad on the left side of the screen moves him around. All the way across the screen, another D-pad controls his firing: Just tap that right-side D-pad in the direction you want to shoot. I get the theory behind the control scheme—two separate D-pads means you can move in one direction while shooting in one another, which can come in handy as the Crimson Jackals attack from all sides. But in practice, it's difficult to master—my right hand had a hard time ignoring what my left one was doing. Things are complicated further by the fact that the on-screen buttons for toggling between assorted weapons are dangerously close to that right-side D-pad. All too often, I would be charging toward my enemies, firing off a Gatling gun when, following a clumsy finger strike, I would inadvertently switch to a pistol mid-gunfight. I think Cowboy Guns would do well to follow the lead of other iOS games and at least let you arrange the on-screen controls to your liking.
Chillingo sells two versions of the game. Cowboy Guns runs on the iPhone and iPod touch, while Cowboy Guns HD is optimized for both the iPad as well as for the Retina display feature in the iPhone 4 and fourth-generation iPod touch. The latter game also costs a few dollars more than its iPhone-only counterpart. Otherwise, there's no difference between the two offerings.
I realize that controls can be a personal preference. And fortunately, Chillingo offers free trials of both the iPhone and HD versions of Cowboy Guns so that you can decide for yourself whether the game's control scheme is a help or a hinderance. Certainly, there's enough to like about Cowboy Guns that some gamers will decide that they like the app's controls just fine. For me, unfortunately, Cowboy Guns just isn't quick enough on the draw.
[Macworld.com editor Philip Michaels sees the good, the bad, and the ugly every time he looks into a mirror.]