Users of Google+ looking to get in on the social network's gaming action now have an option to play while they're not in front of their computers. iSwifter, an iPad app which already allows users to play Facebook's most popular Flash games, has added the ability to play games hosted on Google's social-networking service.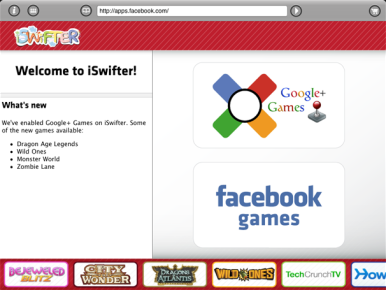 The free app, created by YouWeb Incubator, works by streaming Flash-based applications from the Web to an iPad. It manages this by running a game on the company's own "low-cost" servers, and then streaming an iOS-compatible version to the device.
With the exception of Angry Birds, all of the games on Google+ are available to play on iSwifter. (Though it's not as though users of Apple's tablet are really hurting for a chance to play the birds vs. pigs blockbuster.) But it's also worth noting that, of the 16 games currently available on Google+, three already have apps specifically designed for the iPad, including Angry Birds and Zynga Poker; the majority also have readily available iPhone apps, which can run on the iPad, albeit not in an ideal fashion.
By adding Google+ compatibility, though,YouWeb has broadened the app's potential userbase beyond just Facebook. It also potentially lets developers tap into the lucrative iOS market without having to re-develop the application for the platform.
And it's possible that there will, at some point, be Google+ games that aren't available for iOS. We've already seen publishers side-stepping the App Store to create Web apps; it's no stretch of the imagination to see game developers making the same choice. In cases like those, solutions like iSwifter will give iPad owners an alternative to turn to if there are titles that can't be found on Apple's digital store shelves.
But, considering the challenges associated with streaming content (such as the requirement for a network connection) and the popularity of iOS as a gaming platform, it's clear that iSwifter's work is cut out for it.
Still, for those interested in games beyond those involving perturbed avians, the addition of Google+ is useful. iSwifter also offers extra Web-browsing capabilities, such as the ability to visit other Flash-enabled sites, for an additional in-app purchase. iSwifter 4.1 is available in the App Store for download now and requires an iPad running iOS 3.2 or later.