Editor's Note: The following article is reprinted from Computerworld Hong Kong.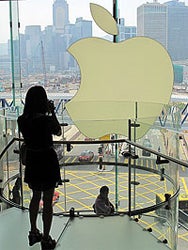 With Apple generally recognized as the world's number one brand, it was only a matter of time until thopened a flagship store in a city obsessed with brands and brand-culture: Hong Kong. The media were permitted a quick peek inside the silicon emporium (officially dubbed the "Apple Store ifc mall") before its grand opening this Saturday.
The iconic logo, a monochromatic silhouette of a stylized piece of fruit, now faces shoppers browsing Hong Kong's iconic mall-IFC One-while an outward-facing twin faces the famed Hong Kong skyline and a reclamation site soon to house Hong Kong Government offices.
In keeping with other Apple stores, including the one in Beijing, high ceilings, big windows and natural wood dominates. A massive spiral staircase connects the two stories of the Hong Kong Apple store, while tables bristle with Apple's extensive line of consumer electronic products, with young and eager staff in blue t-shirts standing by to explain the goodies to nascent digerati.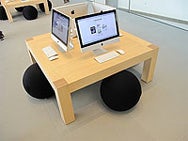 "Apple's first store in Hong Kong…will open Saturday, September 24 at 9 a.m. in the heart of Central, Hong Kong's premier shopping district," said Apple in a statement. "With more than 300 passionate employees, customers can get help and learn everything they need to know about Apple products. The store's highly trained team includes accomplished musicians, filmmakers and photographers from Hong Kong and around the world."
Although Apple claims its Hong Kong store "offers one of the world's largest areas for Personal Setup, Apple's popular free service that helps customers get up and running with their new [Apple device] before they leave the store," an Apple spokesperson declined to divulge the store's floor area. Of greater interest for would-be musicians, filmmakers or photographers, "personal training through Apple's One to One membership…[which] includes face-to-face training and creative inspiration is available for a fee," said Apple.
"The Apple Store ifc mall is one of two Apple retail stores opening in Greater China this week," said Apple. The Apple Store Nanjing East, located on Shanghai's well-known pedestrian shopping street, will open Friday, September 23 at 9 a.m.