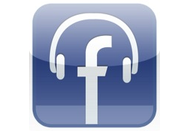 At Facebook's f8 conference Thursday, CEO Mark Zuckerberg revealed some of the details of the Facebook Music Service, which is tied to its new Timeline feature. Essentially, it will allow you to populate your Facebook timeline with a constantly updating list of the music you're listening to from services such as Spotify, Rhapsody, MOG, Rdio, Slacker, iHeartRadio and others.
Those viewing your wall can then click on a track in your playlist and have it immediately stream to their computer, provided that they're also subscribed to the streaming music service. (The details are hazy on whether this is a service-independent solution. So, for example, if you're subscribed to Spotify and your friend is using Rhapsody, will your friend be able to stream that track from Rhapsody?) We'll learn details as they're revealed. In the meantime, there's the question of what impact this may have on the consumption, delivery, and marketing of music.
Who you gonna call?
At one time, radio and, later, MTV, determined what would and wouldn't populate the top of the music charts. As radio's listenership has declined and MTV has become increasingly irrelevant to music fans, very little has risen to take its place. While we may have access to millions of tracks thanks to the iTunes Store, Pandora, and various music subscription services, it's difficult to choose what to listen to. Where do you go for guidance?
For many people, the answer lies in their youth—from your friends. Whether it's going to your pal's house and listening to the hip-hop CD he's just purchased, sharing an earbud with your girlfriend, or getting a text from the kid down the street about the song that closed out Glee, we often rely on people whose taste we trust to tell us what's worth listening to.
The problem is that, up to this point, this scheme hasn't been implemented very well. Streaming music services have added social networking components, but it's been a hard sell because most people don't see the value in "renting" their music, thus making it difficult to find friends who belong to one of these services.
No. 1 with a bullet
What Facebook is proposing is to throw its significant user base at the problem. Instead of asking a friend to go out of their way to view your playlist on a music service's website or follow a link that you've tweeted, emailed, or texted, they can simply visit your wall, take a gander at what you're listening to, and click. If they're not subscribed to a particular service, they'll likely be offered the opportunity to join or take the service for a trial spin. Do that and not only can you listen to the streaming music, but you can open a chat window to talk about it with your friend.
This is, of course, a potentially enormous boon for music streaming services. More than anything that's been tried before, this will tempt a lot of people to try one of these services. If the experience is transparent and the price of entry not too painful, it could significantly shift people's attitudes about "renting" music.
And that could be an interesting challenge for Apple and other services that sell music. If you can have access to virtually anything ever recorded (and you put little thought into what that access costs over time), there's less motivation to own music. Apple's iTunes Match, while cloud-based, doesn't address this issue because it works only with music that you own.
Of course Apple may have plans to get into the subscription game as well. It has the contacts and catalog, it certainly has the means of delivery, and it has control of the most popular portable music players on the planet. Given that, it could trump Facebook's efforts, which, at this early date, look a little clumsy given that they're tied to a browser. But, up to this point, Apple hasn't strayed from its "People want to own their music" stance.
Giving them the business
Facebook isn't doing this out of the desire to see the world become a more musical place. It is undoubtedly going to make money from the music services that push content through Facebook. And the music you listen to and share is yet another data point that Facebook can sell to those entities who pay for this kind of information.
It will have an effect on music marketing as well. Certainly we'll see music labels and other related businesses pour their acts and partners' work into the timelines on their walls. Celebrities and "trusted sources" will also pump their timelines full of music. So while there is a measure of democratization here, we'll want to keep an eye on services that are promoted to tell us what to listen to, just as radio was tasked with this job in past decades. The less bleak side of this tarnished coin is that artists will also have the opportunity to stream their music to fans and friends.
But perhaps the most intriguing angle is that we are now a source to be wooed and pitched. Your voice, among the millions, matters to those who are promoting a particular artist or label. To what lengths is the music industry willing to go to promote and reward "taste makers" who influence large numbers of "friends?"
This is music worth watching.