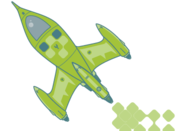 In an attempt to spur adoption of its MozyPro cloud backup service, Mozy today shipped external hard drives to many of its small- to medium-sized business customers to speed initial system backups.
The new service, called Mozy Data Shuttle, is not dissimilar to what many enterprises do when creating offsite backups: the initial full backup is made to local hard drives, and then those drives are shipped to a disaster recovery site where the data is ingested by a storage array or tape library.
Mozy's Data Shuttle consists of a bright green 2TB Iomega hard drive with both USB 2.0 and eSATA connectivity.
After a customer orders the service, Mozy ships the customer a hard drive. As soon as the hard drive is connected to a system, it prompts the MozyPro customer to perform an encrypted full backup of the system. The customer can then use a pre-printed shipping label to ship the drive back to Mozy where the data is downloaded onto its servers.
As soon as the Data Shuttle drive is unplugged from a customer's system, incremental backups of the system data are automatically sent to Mozy's data center. When the backup drive's data is downloaded, it is automatically joined with the incremental backups to create a full data copy.
"In the last 12 months, more and more people are opening up to backing up data to the cloud. At the same time, the amount of data in organizations has grown. Those two things converging is what prompted us to bring out this service," said Gytis Barzdukas, director of product management at Mozy.
Barzdukas said about two-thirds of Mozy's business comes from SMB customers. When a growing number of those customers reported having at least 100GB of data to store, it became a barrier to backing up online because it was taking weeks in some cases to complete.
"While their data was growing, their network bandwidth wasn't necessarily staying on par," he said.
Mozy is targeting organizations with 100GB to 8TB of data or five to 30 desktop users.
Jamie McKenzie, Mozy's Data Shuttle product manager, said the service can handle up to four 2TB drives for ingestion at a time.
Each drive has two layers of encryption. The first encryption key can be chosen by the customer either through a default key or by creating a unique personal key. Then the Data Shuttle drive generates a second encryption key used for additional security while the drive is in transit. The one-time key is used to unlock the encrypted data so that Mozy can then store a customer's encrypted data at rest. Mozy never has both keys, so it is unable to see a customer's data.
The retail price for the first Data Shuttle drive is $275, and $100 for each additional drive, according to Barzdukas.
[Lucas Mearian covers storage, disaster recovery and business continuity, financial services infrastructure and health care IT for Computerworld. Follow Lucas on Twitter at @lucasmearian or subscribe to Lucas's RSS feed. His email address is lmearian@computerworld.com.]
Note: When you purchase something after clicking links in our articles, we may earn a small commission. Read our affiliate link policy for more details.