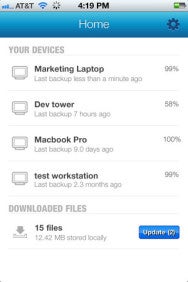 Backing up has become quite easy in recent years thanks to online services like CrashPlan. Now, if you're a CrashPlan+ or Pro subscriber, you can even access files from your iOS device, thanks to a pair of free apps released Friday.
The CrashPlan and CrashPlan Pro apps offer easy access to anything you've backed up to the service's online database, allowing you to browse through your files and download them to your iPhone, iPod touch, or iPad, or share them with others via email.
Within the apps, you can view Word, Excel, PowerPoint, JPG, TIFF, MP3, and PDF files; if you have an external app that can read these files, you can also open them in that app using iOS's Open In feature. If you've downloaded a document to your device that's since been updated on your computer, you can grab the newest version from the CrashPlan servers by tapping the Update button within the app.
Both apps are free, and available for CrashPlan+ and Pro subscribers, respectively. A CrashPlan+ subscription costs $25 to $120 annually, depending on storage limits. Pro plans start at $179.