At a Glance
Expert's Rating
Pros
New forms interface is very useful
Easier process for tracking partial invoices
Cons
Some bugs and other interface anomalies
No file level compatibility with Windows version
No export to TurboTax
Our Verdict
As has been the case with past versions of Intuit's accounting and business finance application, QuickBooks 2012 for Mac is a bit of an enigma. It's a very good product that, when looked at in a vacuum, is easy to work with, offers a number of excellent features, is updated on a regular basis, and is a truly useful product.
Unfortunately, QuickBooks doesn't exist in a vacuum. In fact, it lives in a kind of rarefied air, under the enormous shadow (to mix metaphors) that is QuickBooks for Windows—the application used by most small business accountants and, frankly, a large number of Mac users via Bootcamp, Parallels, or VMWare Fusion.
The reality is that QuickBooks for Mac is held hostage to the success and expectations created by the feature-set and ubiquity of Intuit's eponymous Windows-based product. While QuickBooks 2012 offers some compelling new features, it also has a number of bugs and interface shortcomings.
Much to like
With QuickBooks 2012, it's clear that Intuit is refining the way you work with your data, by adding features and making it easier for you to find and use the information that you need. Intuit has added four major new features to QuickBooks 2012, two of which offer significant benefits.
At the top of the list is QuickBooks 2012's new redesigned forms interface, which you see in everything from estimates and invoices to checks, bills, and purchase orders. What's different about the forms interface is the amount of information it allows you to see and interact with in a single location.
The forms interface consists of three panels: A transaction list, the form, and the customer information panel. A Spotlight-like search field is located in the upper right-hand corner for filtering the transactions that appear in the transaction list, and buttons for printing, emailing, and previewing the currently selected form. When a transaction is selected from the transaction list, the associated form appears in the center panel. Here you have the ability to edit the form, adding or removing items as necessary. You can also easily change the form template using the preview button to see what the printed or emailed form will look like before you send or print it. The customer information panel gives you a quick informational overview of your currently selected customer or vendor, allowing you to see any outstanding balances, overdue invoices, contact information, and notes that you've created for that contact. Clicking any item in this panel opens a new window containing the transaction that you've selected.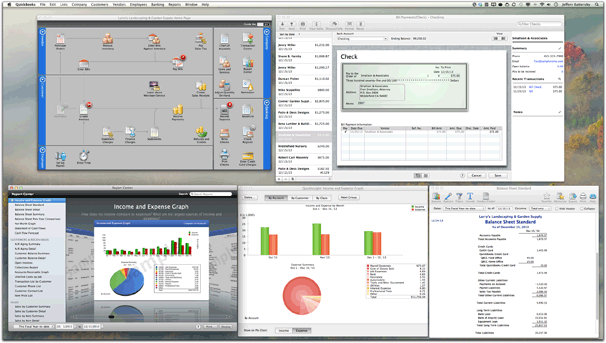 Overall, I found the new forms interface to be an amazing timesaver. It combined features that often required multiple steps, or required a jump between two or three different places in earlier versions of the program.
Among my other favorite features is QuickBooks 2012's progress invoicing, which allows you to easily bill your customers for part of a job without requiring you to do any math in your head or keep track of how much you've billed a customer using a spreadsheet. This tool is easy to use, allowing you to bill by a percentage, a specific dollar amount, or by the part of a job that has been completed. When you use progress invoicing, QuickBooks keeps track of how much you've billed and how much you have left to bill.
Devil in the details
Unfortunately, QuickBooks 2012 is marred by a number of interface bugs and missing features that are likely to leave a number of users fuming.
There is no file level compatibility with the Windows version of QuickBooks. This may not be a big deal when it comes to sharing files with a Windows-using accountant, as the application offers a simple tool you can use to export and import a Windows formatted file. The bigger issue arises when you're working in a multi-platform environment and you need to have different users working on both Macs and Windows share the same data file. This is, unfortunately, just not possible. Furthermore, when it comes down to tax time, there is no way to export your QuickBooks 2012 data so that it can be imported into TurboTax. This, for many businesses, is simply unforgivable.
I also found a number of bugs in the program, most of which surrounded the QuickBooks 2012 toolbar. Many times the bar had no buttons, or, if the buttons were there, they were all disabled. These aren't the only issues I had with the application, nor are they deal breakers, but they do mar the overall user experience, and they are indicative of the kinds of niggling issues I encountered throughout the program.
Macworld's buying advice
If you didn't live in a world where QuickBooks already existed, if there wasn't another universe that you could look at where there was a program that already does more than QuickBooks for Mac does, if you didn't know how things could and should be, QuickBooks 2012 for Mac would seem like a pretty good product. Unfortunately, the knowledge that QuickBooks could be better (and isn't) makes QuickBooks 2012 for Mac something "less." The timesaving forms interface and progress invoicing are offset by limited Windows file compatibility, missing TurboTax compatibility, and a number of niggling bugs.
[Jeffery Battersby is a regular contributor to Macworld. Get more Jeff than you want on the Revenge of the Fanboy! podcast ( https://revengeofthefanboy.com) and at jeffbattersby.com.]