At a Glance
Expert's Rating
Pros
Easy to use
Can swap between right- and left-hand filming
Low price
Shoots 4.9MP still images
Cons
Non-upgradable battery
No built-in memory
Our Verdict
Once in a blue moon, there's a product with a new feature that's not only cool, but something people will actually use. Such is the case with the Samsung HMX-Q10UN's unique ability to let you quickly swap it between hands with barely a pause in shooting.
Its low price also got my attention—this full-sized Full HD camcorder sells for only $300. And it lets you shoot 4.9MP (JPEG format only) photos, an unusually rich resolution for such a low-cost model.
Shoot with either hand
This hand-swapping feature, which Samsung calls SwitchGrip, is ideal for crowded events like sports games and parades, where people in front often block your view. Ever had to stretch your arm, camcorder in hand, way to your left to shoot around the linebacker-sized guy in front of you? And shoot blind because you can no longer see your LCD viewfinder? These are the kinds of problems the HMX-Q10UN is designed to solve. It mainly succeeds, though with a few snags, which I'll get to shortly.
Each time you switch the camcorder from one hand to the other, you roll it a half-turn, turning it belly-up (or belly-down). As you roll the unit over, motion-sensing electronics in the camcorder invert the video capture and LCD images to keep them in the same upright position. The HMX-Q10UN is quite small, measuring 4.7-by-2.1-by-1.7-inches and weighing only eight ounces with the included Lithium-ion battery. With all this hand-swapping, I worried I'd fumble the camcorder and send it clattering across the pavement. In practice, I found the hand switching operation very safe to do. One hand was always tucked well under the unit's strap before I withdrew the other hand, so I always felt I had a secure grip.
Touch screen
Samsung moved nearly all the camcorder's controls to the 2.7-inch touch-screen LCD panel. There, the menu and icons flip right along with the video display when you switch hands. That leaves a very clean sleek camcorder body, virtually free of buttons and switches. The only physical controls are for Record/Standby and to set the lens from wide angle to telephoto. Both controls are mounted in the center of the camcorder's back panel, so they remain essentially in the same place, preserving the same look and feel whether you're shooting right- or left-handed.
Moving all the controls to the LCD panel makes it very important to have an easy-to-use, intuitive screen menu. In this regard, Samsung mainly succeeded. The HMX-Q10UN's screen navigation is straightforward, and you can figure out most functions without the manual. Drag and Scroll is a handy feature. If you've stored a slew of images or video you can quickly get to the one you want by brushing your finger on the screen to scroll through the thumbnails—similar to using your iPhone or Android smart phone. However, I'd like to see a Help menu so users can learn about some of the less intuitive items, like Smart Auto and Guideline. (Smart Auto detects the type of scene you are shooting, and automatically adjusts the camcorder's settings accordingly; Guideline displays a grid of thin lines on the LCD panel to help you better frame the images you want to shoot.) You may want to keep the user manual handy until you get up to speed on all the functions.
Capturing action
Many of the HMX-Q10UN's features work very well for shooting busy active scenes. For stills, you can set the unit to take up to eight rapid-fire shots, great for shooting a fast-moving event, like a football game. This feature, called Continuous Shot, dramatically increases the chances you'll get a good shot of a high-speed event. The camcorder also has a Continuous Recording function, which lets you pause your shoot, then resume it without spawning a new video file. When I walked around turning Record on and off, I normally would have generated loads of video files. However, this control let me pause and resume writing to the same file, making video much easier to view, edit, edit, and eventually post online.
SwitchGrip and Continuous Recording are both great features. In the HMX-Q10UN model I tested, SwitchGrip didn't work in Continuous Recording mode, but I solved the problem by downloading a firmware upgrade from Samsung's website. The firmware was easy to install, and it sped up the camcorder's electronic flipping function, too. Before, I was hand-swapping the camcorder so quickly, I raced ahead of the flip and had to wait two to three seconds for the camera to catch up; now the wait is a second or less.
The HMX-Q10UN turned in a solid performance in our video and audio lab tests, chalking up Good scores across the board. I filmed outside around the grounds of my home during late afternoon and dusk, and found the color reproduction and low-light shooting quality to be adequate, but not exceptional.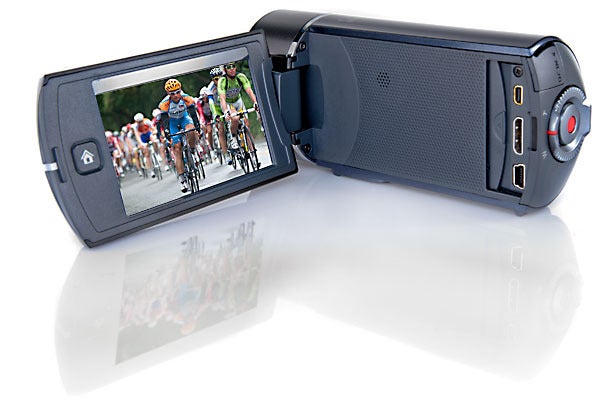 Battery life and other features
One of this camcorder's few drawbacks is that its 1250mAh battery delivers only a little under two hours of recording time, a bit low for most users, and Samsung doesn't offer a higher-capacity option. Also, this model lacks on-board memory, and Samsung doesn't bundle an SD card. It's disappointing to get this camcorder home and out of the box, and find you can't start shooting right away unless you already own an SD card.
Finally, if you mount the camcorder on a tripod, you have to unscrew the mounting plate from the camcorder body to swap out the battery or memory card. However, this camcorder is designed for people shooting on the move, so this last issue probably won't crop up.
The HMX-Q10UN's built-in file transfer software, Intelli-Studio, is for the PC only, but you likely won't miss it. You can connect the camcorder to your computer via USB, and use your file manager to copy over your image files. This model uses H.264 compression, making the video files compatible with most editors. I was able to smoothly transfer the video files into iMovie and the photos into iPhoto.
Macworld's buying advice
Despite several limitations (early models may require a firmware upgrade to solve a few hand-flip hitches, no on-board memory, small battery), the HMX-Q10UN is a remarkable little full HD camcorder for $300. It includes right- and left-handed shooting, very good usability, high-resolution photos, and very acceptable video quality. Some active users may start to wonder how they managed without the camcorder's hand-swap feature.
[Bryan Hastings is a freelance writer based in the San Francisco Bay Area.]