As Apple continues to sell more laptops than desktops, the number of people working with iTunes on small displays increases. While I have a 27-inch iMac on my desktop, which allows me to use iTunes efficiently and see plenty of information about my library, working on my 13-inch MacBook Air is a bit more difficult. If you only have a laptop, there are ways you can optimize the way iTunes displays its content to make it easier to manage on a smaller display.
1. Choose the right view
iTunes offers four different views, or ways the program displays your content in windows or playlists. (See "Pick the perfect view options in iTunes" for more on the different views. Note that the article was written before Album List view, the second choice on the view button, was added to iTunes.) While you may want to use List view or Album List view on a large display, you might find that Grid view or Cover Flow view works better on a small display. If your laptop is your only Mac, you may want to switch back and forth between one of these views and List or Album List view when you need to see information about your content or make changes to tags.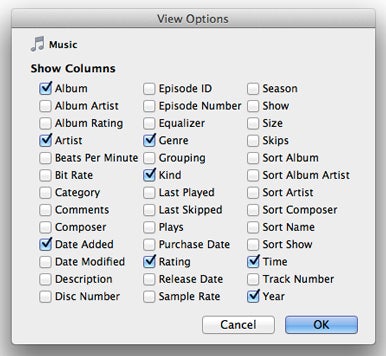 If you do use List view or Album List view, you can adjust the number of columns displayed in your windows and playlists to save space. To do so, press Command-J to bring up the View Options window, and check the columns you want to see (and uncheck those you don't want to see). After you click OK to dismiss the window, you can click and drag the column headers in the main iTunes interface to change their position, which can help makes sure the info you really need to see if always in front of you without having to scroll sideways. You can put the columns you only consult occasionally all the way to the right, so they're there when you need them.
2. Adjust the column browser
If you use iTunes' column browser (see "Making the most of the iTunes Column Browser" for more on how it works), you might want to change your habits. Not that you shouldn't use it—I find it a great way to speedily drill down into my library—but the way you set it up has a big impact on its usefulness on a smaller screen. If you have the column browser on the left, it eats away at your horizontal space, which is more limited on a small display. Putting it on top shows less content below it, but gives you the full width of the screen. (You can change its position by selecting On Top or On Left from View -> Column Browser.) If you really want to keep it on the left, think about displaying fewer columns, and changing their widths. To do the latter, hover your cursor over the line separating two columns, then drag that line. Another option is to make the sidebar as narrow as possible; to do so, drag the line separating it from the rest of the window.
3. Use multiple windows
You may not know it, but you can make iTunes use more than one window. To do so for a playlist, for example, just double-click on the playlist's icon in the iTunes sidebar, or right-click and choose Open In New Window. The new window opens with the same content, and in the same view, as the playlist, but without the sidebar. You can resize or otherwise alter that window, then switch back to the main window, and choose any other window from the Windows menu.
Using multiple windows is practical if you have a playlist in which you want to see more information temporarily, say. You can create separate windows for anything but the Music library at the top of the sidebar. So you can have a separate window for the iTunes Store if you visit it a lot; for the Downloads list if you download a lot of content with iTunes; for iTunes DJ if you use that to play music during the day; or for your favorite playlists. If you watch a lot of TV shows, put that library in a separate window as well. While it may be confusing at first, it can be much easier to work with multiple windows because you don't your their place in the main window, and don't have to make several clicks to get back to where you were.
The main advantages to multiple windows are that the new windows you open won't have a sidebar, they will have more horizontal space, and they can stay open all the time.
[Senior contributor Kirk McElhearn writes about more than just Macs on his blog Kirkville. Twitter: @mcelhearn Kirk is the author of Take Control of iTunes 10: The FAQ.]