Not every iOS game needs flashy graphics, whizzy controls, or an elaborate backstory to be entertaining. Even a relatively simple game can shine on the iPad if the developer can find a way to keep the gameplay compelling.
That's what Ruma Studios has managed with Rampage Soccer. The iPad game won't blow you away with its look-and-feel, but constant action, different gaming modes, and attention to details like sound and music make for a surprisingly engaging app.
Rampage Soccer recreates a tabletop soccer game, reminiscent of foosball. The difference: Instead of using soccer players impaled on a spinning rod to advance the ball down the field into your opponent's goal, you fling little tiny balls at it—blue ones, to be exact, while your opponent has a cache of red balls. A flick of your finger sends your ball-shaped ammo down the field, where it collides with the soccer ball, pushing that sphere toward the net; your opponent, meanwhile, is unleashing their own set of balls to send the soccer ball flying in your direction. You've only got a set number of balls at your disposal, so the game requires some degree of strategy: Frantically flinging all of your available ammo can leave you empty-handed as the soccer ball careens toward your open net. Overall, it's a great deal of fun, watching the soccer ball ricochet its way around the playing surface, and Rampage Soccer adds crowd noises that ooh and aah as the ball gets dangerously close to the net.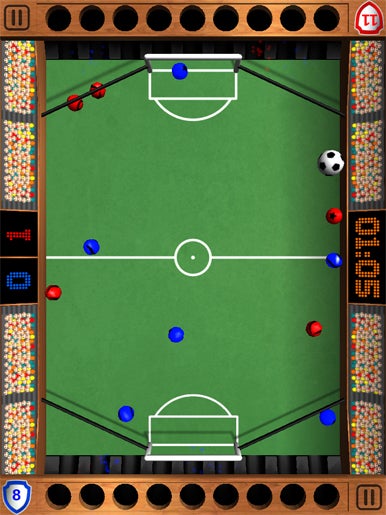 You can take on a computerized opponent or a human adversary—for those two-player games, you and your foe face off on opposite ends of the iPad. In that sense, Rampage Soccer is an ideal game for families where the iPad has become a group gaming device, since it's able to accomodate two gamers at once.
Ruma Studios has built in three modes of gameplay, each with their own set of rules and levels of difficulty. In addition to the classic game, there's also a penalty shootout offering, in which you have a single ball to deflect an oncoming shot; the more shots you deflect, the more points you accrue. The assortment of game modes keeps things fresh, so you're unlikely to become bored with Rampage Soccer too quickly. An array of unlockable achievements tied in with Apple's Game Center also adds to the fun.
The game's graphics are serviceable, though not spectacular, and its physics engine has a few wobbles. Occasionally, one of the colored balls I shot would seemingly pass through the soccer ball—a quirk I attribute to Rampage Soccer's 2D graphics. In contrast to a game like Foosball HD, there's not a lot of use of shadows in Rampage Soccer, so the playing surface doesn't have a lot of depth to it. I wish the game provided more surface area for flicking your shots, and Ruma Studios makes the common mistake of putting the game's pause button too close to where your fingers are sliding across the iPad's screen. It's way too easy to inadvertently pause—or even quit—an in-progress game.
Minor gripes aside, Rampage Soccer does a solid job of bringing a tabletop soccer game to the iPad—and putting a unique spin on it, to boot. Multiple gameplay modes, support for two-player action, and compelling gameplay combine for a fun addition to your tablet.
[Philip Michaels is the editor of Macworld.com.]