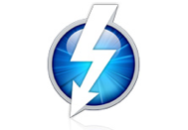 Talk to tech industry insiders about the new Thunderbolt data ports in the latest generation of Apple computers, and one concept repeatedly pops up: Speed. The technology enables data transfer at speeds and volume that few consumers have ever seen before.
"Thunderbolt technology is a whole new level of fast," says Dave Salvator, a spokesman for Intel, which developed the technology.
"Everything has gotten faster," says Randy Chan, product marketing manager for Promise Technology.
"It'll be a significant difference for people," Marc Lee, director of product line management for Seagate Retail, said of Thunderbolt speeds. "They will notice it."
All that talk of speed, however, raises a perplexing issue. Seven months after Apple and Intel announced that the newest MacBook Pros would ship with Thunderbolt, peripheral-connection devices that take advantage of the new feature are making their way to consumers quite slowly.
It's only in recent weeks that market has seemed to finally move ahead, propelled in part by Apple's own release of a Thunderbolt-equipped 27-inch LED display, along with LaCie's shipping of its Little Big Disk, and Seagate's unveiling of demo devices at mid-September's Intel Developers Forum.
"I think all of us would like to be shipping it sooner," says Mike Williams, vice president and general manager of branded business for Hitachi Global Storage Technologies. His company will ship its Thunderbolt-enabled G-Raid and G-Drive units in October.
So, what's taking so long? It's (literally) complicated.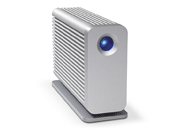 "A few technical things had to be worked out along the way," says Mike Mihalik, senior engineer and program manager at LaCie. His company actually demonstrated a Thunderbolt prototype at Apple's February announcement, but didn't start shipping the Little Big Disk until September. "We wanted to ensure everything was going to be robust, and have a pleasant user experience."
Why so complicated? Mainly because one Thunderbolt cable can combine the work that has been done by multiple cables, daisy-chaining an array of devices. The technology combines data, video, audio, and power that allows for a single, high-speed connection of peripherals such as hard drives, RAID arrays, video-capture solutions, and network interfaces—providing up to 10Gbps of data throughput.
That requires the insides of a Thunderbolt peripheral to be considerably more complicated than a simple USB device. Which, in turn, made development and shipping of new Thunderbolt devices a slower, more painstaking process.
"I imagine when people get their hands on these [Thunderbolt devices], they're going to tear them open to see what's on the inside," LaCie's Mihalik says. "It's going to be hundreds of components."
After LaCie demonstrated its prototype in February, Mihalik says, the company went back to the drawing board to design and ship a usable product. The complex technical demands of the entirely new technology required engineers to take time with testing—making sure that their understanding of Thunderbolt specifications were the same as those of engineers at other companies, and ensuring that new users would find Thunderbolt intuitive and easy to use. That took more time than, say, slapping together a new USB cord.
"There's a lot of technical aspects to be looked at," Mihalik says, "a lot of companies involved in bringing it to market in reliable and cost-effective form."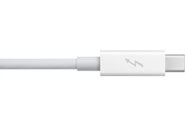 Despite the obstacles, there have been whispers and outright conjecture that Thunderbolt's emergence has been slowed by a simple lack of interest on the part of peripheral makers. Outside of its iOS blockbusters like iPhone and iPad, Apple has never had a very large share of the PC market, and Windows-based computers won't get the technology until 2012.
Not true, peripheral makers say. The combination of Apple and Intel is formidable, they say. And Apple has demonstrated its commitment to the technology by not raising the prices of computers equipped with Thunderbolt. Besides, Apple's share of the PC market is growing—making it too important to ignore.
"I'd say we're very interested in pursuing it, not because of the size of the (market share) split between PC and Mac, but the rate that the Mac market is growing," said Seagate's Lee, adding: "Mac has made some significant growth."
The first generation of Thunderbolt products, however, may find a limited audience. The early, expensive devices are aimed primarily at the prosumer market of audiovisual editors who want to be able to edit smoothly on their laptop, then unplug from external video storage devices and take their computers home. Tom Coughlin, a tech industry analyst, says that right now there are only about 350,000 workstations that match that description.
"Right now, it's expensive, so it's only the high-end markets that need it, will pay for it, will use it," Coughlin says. "There are a goodly number of those users who will pay for the performance to get projects done—people for whom time is money."
As the technology becomes cheaper, though, Thunderbolt will find mass-consumer uses—everything from enabling super-quick data backups to editing high-definition photos, and more. Peripheral makers who are on the Thunderbolt bandwagon now will have a head start on that market. By the time that happens, consumers will have forgotten about Thunderbolt's slow arrival on the scene—or the reasons why.
That may take a little time, however. It already has.
"Thunderbolt really enables an ecosystem," Promise Technology's Chan says. "I don't think a whole ecosystem can emerge right away."
Intel's Salvator said the Thunderbolt market is about to start developing more quickly. "We showed about a dozen products at IDF, several of which are in market now," he said, "with more to come by year's end."
[Joel Mathis is a freelance journalist and political columnist for Scripps Howard News Service. He lives in Philadelphia.]