At a Glance
Expert's Rating
Our Verdict
While there are plenty of full-featured image-editing programs out there, including Adobe Photoshop, there are times when you want an app that does just one thing, and does it incredibly well. For selective desaturation—removing color from specific parts of a photo while leaving the remainder untouched—that program is MacPhun's Color Splash Studio ( Mac App Store link).
I've seen similar apps for iOS, such as Color Splash for the iPhone and iPad, but Color Splash Studio is one of the few selective-desaturation photography apps available for the Mac, and it takes advantage of the platform by offering more—and more-powerful—features than are available in these iOS apps.
Color Splash Studio's home window offers several options for getting images into the program: You can drag and drop an image into the app, import an image from Aperture or iPhoto, navigate to any image on your computer, or open a recent image you've worked on.
Once you've imported your image, Color Splash Studio automatically displays a black-and-white version of it, along with the program's tools. On the right are most of the color-editing tools, while a toolbar along the top hosts file-related functions (Import, Load Photo, Save, and Share), as well as undo, redo, and tools for zooming in and out. Everything is clean, well-organized, and intuitive.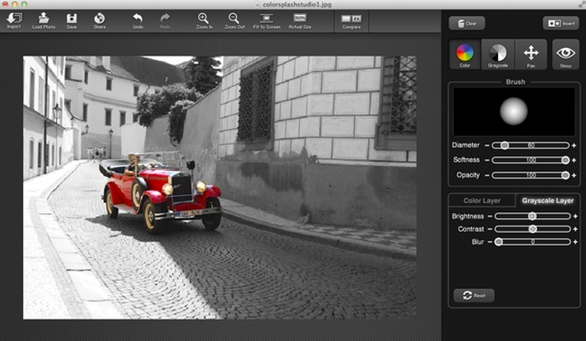 The color-editing tools include two brush options—Color and Grayscale—and a panning tool. You can adjust the brush size, softness, and opacity, making it easy to color detailed areas; and if you accidentally do too much coloring, the Grayscale brush lets you paint over those areas you want to desaturate again. As you're coloring in areas of your image, you can adjust the color layer's brightness, contrast, blur, saturation, hue, and exposure. You can also use brightness, contrast, and blur sliders to tweak the grayscale areas of the image.
A handy Invert button quickly changes everything that's black and white to color, and vice versa. You can also easily start over by clicking the Clear button. To see how far along a photo has come, Color Splash Studio offers a useful Compare tool, which displays the original image next to the current version of your creation. And if you want to more-clearly see where you've painted, a Show button overlays colored areas with a red mask, making it easier to spot areas you've missed.
Once you're finished, you can save your edited photo, or click Share to easily share it via email, Facebook, Tumblr, Flickr, or Twitter.
I do wish you could have more than one editing window open at a time so, for example, you could work with two images simultaneously. But for those who like to focus on one project at a time, this shouldn't be a problem. Overall, Color Splash Studio is easy and fun to use, and it does exactly what it sets out to do. The "painting" process also brings back memories of childhood coloring within the lines, with the same result: a pretty picture.