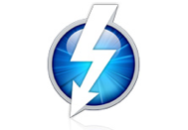 Thunderbolt ports on Apple's current Macintosh computers will be compatible with upcoming fiber optic cables, which should be ready by next year, an Intel spokesman said.
The exact timing and prices are yet to determined, said Dave Salvator, an Intel spokesman. The Thunderbolt interconnect technology, introduced in February on Apple's MacBook Pro, is based on copper and can transfer data between host devices and external devices at speeds of up to 10Gbps.
Circuitry will ensure compatibility of optical cables with existing Thunderbolt ports, Salvator said. Copper cables provide adequate data transfer for use over short distances of up to six meters (about 20 feet), but optical cables will be good for data transfers over longer distances of tens of meters, Salvator said.
Acer and Asustek Computer will ship Windows PCs with Thunderbolt ports in the first half of next year. Thin and light laptops due for release in the first half next year based on Intel's upcoming Ivy Bridge chip will come with Thunderbolt ports, said Erik Reid, general manager of the mobile client platform at Intel, in an interview at this month's Intel Developer Forum.
Intel demonstrated a Windows PC with Thunderbolt connected to a solid-state drive, transferring four uncompressed videos at 700 megabytes per second.
Beyond longer distances, Intel has said that optical technology also offers faster data transfers, however the technology will be expensive to implement. The transfer speeds offered by copper are more than adequate in most cases today, said Dadi Perlmutter, executive vice president and general manager of the Intel Architecture Group, during an interview at IDF.
The adoption of optical cables depends on how much speed people need "versus how much they would be willing to pay," Perlmutter said. He also said that it could be years before optical technology finds mass adoption, primarily due to cost.
Intel is already thinking ahead, and researchers at the company are developing technology based on silicon photonics that will be able to move data up to five times faster than current Thunderbolt implementations. The technology is slated to hit the market by 2015.
Thunderbolt currently supports the PCI-Express and DisplayPort protocols, and the multiprotocol support helps reduce the number connectors needed to attach peripherals to computers. The interconnect is seen as an alternative to USB 3.0, which can transfer data at 5Gbps, but Intel has continually insisted that the technologies are complementary. Only a few Thunderbolt peripherals are available today, but by extending the support to Windows PCs, a larger number of peripheral makers could adopt the interconnect.