It turns out that the iPad's a pretty good device for reading comic books. While graphic novels are now making their way to the iBookstore, the most popular way to read books on the iPad is via Comixology's Comics app. Version 3.0 of Comics is a major update that boosts performance, improves the user interface, and embraces the huge volume of digital comics being released now.
When the original Comics app arrived (first released for the iPhone, then updated to become a universal app for the launch of the iPad), digital comics were experimental in nature. Some of the independent publishers were in the game, but Marvel was only testing the concept out with some older issues, and DC was nowhere to be seen. Now things have changed: Marvel's releasing several comics digitally on the same day as they come to comic stores, and DC has switched to an entirely day-and-date schedule for its series.
That's good news, but the old Comics app was buckling under the strain. Quite simply, it wasn't really designed for the existence of that many digital comics—not the large number available to purchase, and not the number of downloads individual fans had accumulated over time.
Most of the changes in the new version of the app are in the interface to the Comixology online store. The store face loads data faster, scrolls through lists of comics faster, and does a better job of promoting new stuff. Browsing by publisher or series is easy, and there's quick access to past purchases.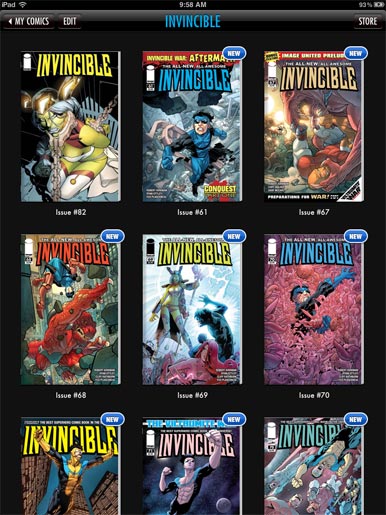 Unfortunately, Comics still doesn't do a good enough job when you've bought a lot of comics. Since the service debuted, I've bought more than 100 comics, but managing those purchases isn't as easy as it should be. Purchases linked to your account appear in the store's Purchased tab, rather than the My Comics section. What's worse, the purchases list is sorted by the day you purchased a particular issue. So if you want to load up, say, all the issues of Invincible you've bought, you have to scroll back through, tapping on each one you spot.
The new My Comics interface, where you interact with the comics you've downloaded to your device, is likewise fast and attractive, but also kind of a mess when you've got a lot of issues. The default view lists every comic on your device; the My Series view simplifies matters by collapsing all issues of a series into a single icon. That's good, but in either view the issues are apparently displayed in a random order. (Perhaps it's the order you downloaded the issue, or bought them. But it's definitely not their sequential issue order!)
Reading an issue is as straightforward as always. Once you tap on an issue in the My Comics view, you can swipe from page to page or use the usual gestures (spread two fingers to zoom in, pinch to zoom back out). You can have the app guide you through the comic panel by panel by double-tapping to enter "guided view," a feature that's more essential on the iPhone than it is on the larger-screened iPad.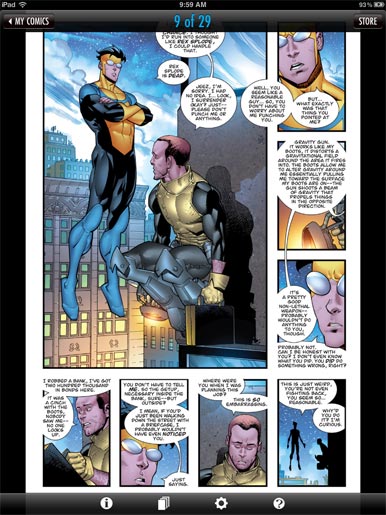 Navigating through an issue isn't as easy as it used to be, though. The thumbnails that appeared at the bottom of the screen when you tapped once have been replaced with a toolbar. Tapping on the pages icon brings up a list of larger thumbnails, which feels like more work than the old approach. When you reach the last page of an issue and try to move ahead, there's a nice touch: a panel slides out, letting you rate the issue you've read, suggesting the next issue in the series, and showing items that other people who read the issue also read. It's a good way to discover new series and a great way to immediately jump to the next issue in the series.
Though there's still room for improvement, I have to say that Comics 3.0 is a good upgrade. The app looks much better, and more importantly, it's much faster. Shopping for, buying, and downloading comics is a practically frictionless process. I've spent more on comics in the last month than I have in any month since I was in high school. That's… um, kind of scary. The improvements in Comics 3.0 might not be so great for my wallet, then, but they're great for the oft-troubled comic industry.
[Jason Snell is Macworld's editorial director.]
Note: When you purchase something after clicking links in our articles, we may earn a small commission. Read our affiliate link policy for more details.