Your iPhone or iPad is surely useful to you, but let's face it: Apple's mobile products are also just plain fun. In researching this week's roundup of accessories, we've spotted tanks, wall-climbing cars, and a few new speaker systems tailed specifically for iOS devices. And if you're still looking for something useful, we've got you covered there, as well.
Aidacase: Another Bluetooth keyboard case for the iPad 2 has arrived: Aidacase's $90 Attache Keycase is described as a "crocodile-style" case with with a touch-typist-friendly keyboard for your tablet. The device is lightweight, at 40 ounces (including the iPad), and conserves battery power by putting the keyboard in standby mode three minutes after the last keystroke.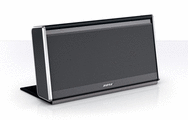 Bose: The famed audio company has introduced its new SoundLink Wireless Mobile speaker, which can play audio streamed wirelessly from your iPhone, iPad, or any other Bluetooth A2DP-enabled device. (It does not, however, play audio streamed over Wi-Fi.) The system weighs less than three pounds and can be toted to anywhere you want to hear your tunes; the internal rechargeable battery provides eight hours of use. Power and volume controls are located on the speaker itself. The SoundLink is available with a dark-gray nylon cover for $300, or a dark-brown leather cover for $350.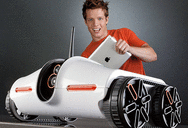 Brookstone: In recent weeks, we've seen both helicopters and monster trucks that can be controlled remotely from your iOS device. Brookstone joins the fun with its $150 Rover Spy Tank. The two-track vehicle's cameras send live video—or infared video for nighttime raids—to the Brookstone app on your iOS device, while microphones on the vehicle transmit sound, making the Rover Spy Tank perfect for a high-tech game of hide-and-seek. You can control the tank from a distance of up to 200 feet; the iOS app lets you drive using on-screen controls, or with an accelerometer that lets you treat your iPad like a steering wheel.
DeskPets: DeskPets is joining the remote-controlled-vehicle parade with the Tankbot, a $25 racer you control from your iPhone using the DeskPets app. The app lets you control the TankBot's right and left tracks individually for sharp turns, or together for straight-ahead speed. Each device comes with a wireless transmitter that plugs into the headphone jack of your iPhone.
Evoz: Our friends at Endgaget pointed us to Evoz's new iOS-based baby monitor. Just set up the audio monitor in your child's room, and you can keep track of your child's sleep and moods from anywhere with a good 3G connection using the company's free iPhone app. The basic model ($120) limits you to 30 minutes of listening time per day. An extra $60 gets you an upgrade to the "premium" service, which includes unlimited listening time.
Harman Audio: Harman has introduced the $150 JBL On Tour Bluetooth-enabled speaker system, which lets you stream music from your iOS device and includes a microphone for phone calls or (on your iPhone 4 or iPad 2) FaceTime audio. The lightweight system—it weighs only about a pound—can run up to five hours on four AA batteries; it includes an adjustable kickstand for the iPad and other tablets.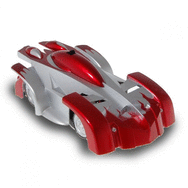 iHelicopters: If tanks don't turn you on, iHelicopters offers a $60 iW500 wall-climbing car. The toy, which of course can be controlled remotely from your iOS device, creates a sealed vacuum between itself and the wall or ceiling and can perform all manner of stunts. It comes with a wireless transmitter that plugs into your iPhone or iPad. iHelicopters says the car is good for about 10 minutes of play after charging for a half-hour. It comes in two color schemes: red and silver, or blue and silver.
Isispos: We all know by now that the iPad has found a home in the business world. That world includes restaurant kitchens, where Isispos has introduced its new Kitchen Display Solution that lets restaurants track and manage customer orders in real time. One tablet can be mounted in a restaurant's food-prep area, and wait staff armed with additional iPads can transmit orders directly from customer tables. The system can be modified to let wait staff easily look up and suggest wine pairings with meals, as well as to make late changes to orders. Credit-card processing is also available through the Isispos system. The Canadian company's website offers no information about the price or availability of the system—restauranteurs are encouraged to contact the company and sign up for a demo. You can contact Isispos here for more information.
Lingo: If the music on your iPhone or iPad isn't enough, Lingo's new iMini gives you access to local radio stations on your iOS device. The device plugs into your iPhone or iPad's dock-connector port; you then plug your headphones directly into a jack on the iMini to pick up local broadcasts. (The iMini and its required DAB GO! app aren't currently available in the United States.)
Raisoo: If you've got an iPod touch and want to make a phone call—and you have access to Wi-Fi—there's always the Skype app. But China-based Raisoo has come up with an alternative that turns your iPod touch into an actual phone. The $109 Raisoo Peel is a slip-on cover for your iPod that includes a dual-SIM slot; with a proper SIM card installed, you can make and receive telephone calls and text messages. The device will be available in two models: The T3 fits second- and third-generation iPod touch models, while the T4 fits the fourth-generation touch. Raisoo says the device works with most cellular phone networks around the world, though not the CDMA networks used by Sprint and Verizon in the U.S.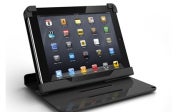 Targus: Accessory-maker Targus has announced several new accessories for iOS devices. First among them, the $40 Swivel Stand for the iPad 2 comes with a 360-degree rotating base; your tablet on top of the base and can be positioned from nearly flat to nearly vertical to get an optimal viewing angle. The stand is compatible with Apple's SmartCover. The $50 Lap Lounge for iPad 2; the $40 Executive Stylus & Pen; and the $35 3-in-1 stylus are also making their debut.