Now that Apple has announced an October 4 iPhone event—which, of course, Macworld will cover live at 10 a.m. PT next Tuesday—the time to speculate on when exactly the company would hold its fall event is over. But the time to speculate on what the company will announce at that event has just begun.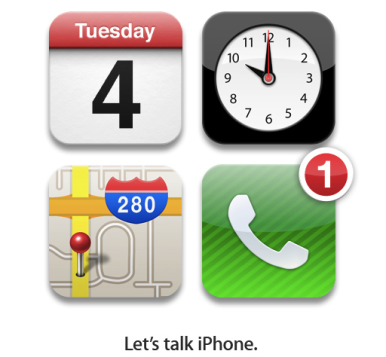 Apple's last iPhone release—the iPhone 4— debuted 15 months ago in June 2010. That was when Apple stuck to a pretty consistent schedule of unveiling a new smartphone model every summer. The iPhone 4 has retained its spot as the newest iPhone on the block for an extra four months, but it's pretty apparent that a successor is waiting in the wings.
If you don't pay attention to the Apple rumor mill, keep up the good, sanity-maintaining work. But if you do, you've no doubt heard rumors that when Apple finally unveils a new iPhone, it will present two models—an iPhone 4S and and iPhone 5.
I don't really buy that, and it's not because I have any inside information. Rather, I'm just looking at the clues Apple dropped in its invitation to the October 4 press event. The Calendar icon shows the event's date; the Clock icon shows the event's start time; the Maps icon shows the event's location (Apple's Cupertino headquarters). Numerous online sleuths have interpreted the fourth icon—the Phone—as indicating that Apple will introduce just one phone, thanks to the otherwise unnecessary big, red badge on the icon's corner. That seems like a reasonable interpretation to me.
So we can expect a phone (in addition to more information about the already previewed iOS 5 and iCloud, of course). But what can we expect from that phone? Or, more to the point, how does Apple improve upon the success of the iPhone 4 which, aging though it may be, still racked up record quarterly sales between March and June this year? Does it do away with more physical buttons? Improve the earbuds? Make the Retina display even more Retina-ier?
Here's one man's take on what could happen, with predictions broken out into three categories—Definitely happening, maybe happening, and probably not happening. Feel free to point and laugh at my prognostications or, better still, add some of your own.
Definitely happening
There are a few improvements that seem like no-brainers. With each iPhone, Apple has made the built-in camera better. The iPhone 4's rear camera is great; I have no doubt that the iPhone 5's cameras—both of them—will be greater still. Similarly, each iPhone is faster than the one that comes before it, and it's thus an easy bet that the iPhone 5 will feature some speedier internals.
Beyond those two improvements, I don't think there are any definites on the hardware side. At least, not until another iPhone prototype shows up in a bar in the next few days.
Maybe happening
Bigger and bigger and bigger: It's possible the iPhone will get bigger. It's possible that the form factor will remain the same, but the screen will take up more of the iPhone's surface area—extending all the way to the edges, or inching closer to the ear speaker. I must believe that if Apple does change the screen's dimensions, it will do so in a way that doesn't require that developers rejigger their apps' artwork—something they already had to do first with the release of the iPad and later with the advent of the Retina display. Asking developers to create yet another set of artwork for a slightly larger iPhone display strikes me as more trouble than it's worth, so Apple will likely keep the total pixel count the same.
New form factor: This seems almost inevitable, but not quite. Rather than suffer any resurgence of the Antennagate drama, I suspect Apple will tweak the iPhone 5's antenna design some. I wouldn't be shocked—in fact, I would be delighted—if Apple replaced the iPhone 4's glass back, too. It's shatter-resistant, but not shatter-proof, as too many iPhone 4 owners have learned the heart-and-phone-breaking way. And let's not forget, the only thing that Apple loves more than straight lines—which the iPhone 4 is full of—is curves, which the iPhone 4 lacks.
System-wide voice navigation: "Wait," you cry, "we've seen iOS 5 previews for months! There's no voice navigation!" If you hadn't interrupted me, though, I would have explained that we've only seen iOS 5 previews on existing iOS devices, not on new hardware that might feature specific improvements aimed at taking advantage of such capabilities.
One particularly juicy iPhone 5 rumor suggests that—thanks to those sure-bet under-the-hood processor improvements, the iPhone 5 (and the iPhone 5 alone) will support systemwide voice interaction. That might take the form of voice transcription anywhere you can currently use the keyboard, or it might get fancier still: TUAW suggests that the iPhone 5 might understand commands like "Text Dan Moren 'Book a flight to northern California ASAP.'" Boy oh boy, do I want to believe.
Turn-by-turn directions: Android phone owners get turn-by-turn directions for free. iPhone users can buy numerous GPS apps from the App Store, but a built-in offering from Apple would be nice. I don't care much one way or the other, having already plunked down cash for the excellent Navigon app, but keeping feature parity with Android's plusses makes good business sense.
Universal access: The iPhone 4 comes in GSM and CDMA flavors. If Apple can cram all the necessary hardware into a single phone, I see no reason that the company wouldn't favor a single model of smartphone that would function no matter which carrier you agree to use.
More, more, more: Don't be shocked if the iPhone 5 offers more storage or more battery life. The former becomes less necessary with the advent of iTunes in the Cloud. The latter becomes less likely if the iPhone 5's boosted processors require more juice to function—in which case, expect Apple to squeeze out just about the same battery life from a better or bigger battery. But bumping either or both would make sense if it can be done.
Not bloody likely
I'd love to see (or hear) a louder built-in speaker, but there's only so much room for Apple to work with. Along the same lines, I'd love if the iPhone's microphone could capture audio a bit more cleanly—and maybe it will, if the system-wide voice navigation bears out.
There's no chance that the iPhone 5 will sport a dedicated camera button—especially since iOS 5 is going to let you use the Volume Up button for that purpose—but it's nice to dream. And while we're on the camera, don't hold your breath for a fancier, brighter, non-LED flash.
You also have zero chance of seeing any output port on the iPhone 5 that you can't already see on the iPhone 4—no HDMI, no mini- or micro-USB. But I suspect we'll see Apple-branded dock connector-to-USB adapters soon.
Some have suggested that the iPhone's iconic Home button may get some capacitive functionality of its own. I may get some virtual egg on my non-virtual face, but I just do not see that happening.
Anything else?
Apple may well make another hardware announcement (or more), too—perhaps an updated iPod touch that matches many of the iPhone 5's new features could appear. And I expect a firm release date for iOS 5 to be announced as well—and perhaps Apple will dive deeper into iCloud's feature set, and announce a release date for the Lion-side of that feature, too. Anything else would be a bigger surprise than I can fathom at the moment.
So what?
Should you be excited about the iPhone 5? If you're eligible for an upgrade on your older iPhone—or you've been waiting to switch from something else to the iPhone—sure. Apple's not capable of introducing an iPhone that won't sell in the millions. And if history is a guide, the iPhone 4 will suddenly cost a lot less come October, and that'll mean you can get a very fine phone at a nice discount.
In fact, it's the iPhone 4's excellence that should raise your expectations for the iPhone 5. With so little to improve upon, Apple likely faced an opportunity where it could make numerous nuanced refinements on the hardware side—and it's easy to expect that the results will be grand.