At a Glance
Expert's Rating
Pros
Large 4.9MP photos
Fast auto-focus
Long battery life
30x zoom
Cons
Battery is hard to remove
Our Verdict
Are you looking for an affordable Full HD camcorder that sports features of mid-range models costing up to several hundred dollars more? Samsung's HMX-H304BN may not turn heads, but offers very good value. This generally pleasing compact model has a durable feel, is easy to use, and offers a rich set of talents for the money.
Let's start with video and still shot capture, which is among the HMX-H304BN's stronger suits. Most of the camcorders in its price range offer a 10x to 20x optical zoom. But the HMX-H304BN's optical zoom goes to 30x, and its autofocus adjusts unusually quickly and accurately. In our lab tests, the camcorder scored Good in every category, and Very Good for audio quality. Filming around the outside of my home at dusk, I was especially impressed at how well it handled color even in the low light. The camcorder smoothly rendered the subtle hues of the post-sunset sky, showing a smooth gradient from dark blue high overhead, down to the pale orange near the horizon.
Photos on the fly
The HMX-H304BN also delivers a lot of still image quality for the buck. Most camcorders in its price range give you only 2 megapixels at most for photos, but this model captures them up to 4.9 megapixels (JPEG format only). Plus, you can set the cam to take up to eight rapid-fire shots, great for shooting a fast-moving event like a motocross race. This feature, called Continuous Shot, greatly enhances your chances of snagging a good action shot.
This camcorder also handles very well. Measuring 4.7-by-2.4-by-2-inches and weighing ten ounces with the included battery, it's similar in size and weight to other compact models, fits easily into a large coat pocket, and in the hand. The Wide-Angle/Telephoto control rocker switch mounted on the top of the unit made it very easy to set the desired zoom level. The Photo button, placed behind the rocker switch, was also easy to reach and use.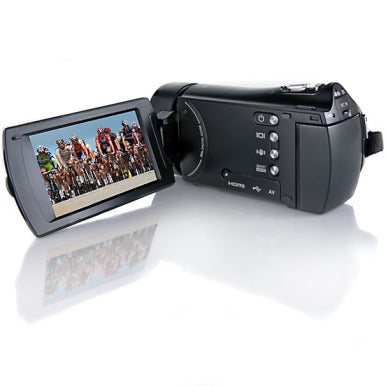 Touch screen
Moving to the touch screen LCD panel, I could intuitively navigate the menus on this spacious 3-inch screen; no need to keep going to the user manual. I was also pleased with the options. The HMX-H304BN offers a decent number of manual settings, including those for shutter speed, aperture, focus, and even White Balance, allowing you to fine-tune control over the video and photos you want to shoot.
One of the more unusual tools I found was Time Lapse Recording, which lets you capture single video frames at intervals up to five minutes apart, which you can then play back at the normal 30-frames per second rate. You use this function if you want to capture some normally very slow process, like a blooming flower or your sprouting Chia Pet, and play back a sped-up version of the event. This camcorder also makes it very convenient for you to quickly preview the video you just shot, popping a playback control on the screen the moment you finish recording.
Great battery life
The HMX-H304BN turned in over three hours of recording time with the supplied 2060mAh Lithium-ion battery—long enough so that most users will not need to swap batteries during a typical day of casual shooting. If that's not enough, you can upgrade to the optional high-capacity battery pack (4200mAh) for $99, which should double your battery life. However, I had a tough time removing the battery pack. I inserted a blunt letter-opener blade between the battery and the camcorder body to gently pry it off its mount to remove it.
This model comes with on-board file transfer software, Intelli-Studio. It's for the PC only, but Mac users likely won't miss it. You can connect the cam to your computer via USB, and use your file manager to copy over your image files. The Q10 uses H.264 compression, making the video files compatible with most editors. Working on a MacBook Pro, I was able to quickly load up and view the video clips in iMovie, and the still images in iPhoto.
Macworld's buying advice
The compact Samsung HMX-H304BN offers a lot of camcorder for the money. It covers the bases well, and has exceptionally long battery life. If you don't need to swap batteries often, give this camcorder some serious consideration.
[Bryan Hastings is a freelance writer.]