Amazon on Wednesday unveiled its much anticipated tablet, the Kindle Fire. The 7-inch tablet will cost $199. The company also announced a new $99 touchscreen e-Ink device called the Kindle Touch.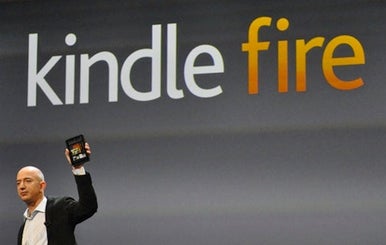 On the software side, although the Kindle Fire runs Android under-the-hood, the interface is all Amazon's. The tablet unsurprisingly integrates closely with Amazon's services, offering built-in apps that can access Amazon's music library, movies, books, magazines, and games.
Customers who purchase the $199 Kindle Fire also receive a free, 30-day trial of Amazon Prime, the company's service for free two-day shipping, discounted overnight shipping, and streaming video. Amazon says all your data on the device is automatically backed up in the cloud; no syncing is required. And now movies and music leverage WhisperSync, too—that's Amazon's seamless technology for keeping your page (or place) saved and synced across devices.
On the hardware side, the dual-core, 7-inch tablet weighs 14.6 ounces and will sport only Wi-Fi connectivity; no 3G connection is offered. The screen offers a pixel density of 169 pixels per inch.
Apple's iPad, of course, sports a 10-inch screen, two cameras, a 3G option, and starts at $499. Amazon surely hopes that the Kindle Fire will succeed in carving out part of the tablet market where other tablets (the Playbook, the TouchPad, the Xoom) have failed. The device's low price will be attractive, though customers will need to choose between the pricier iPad with its greater feature set (and much larger App Store), or Amazon's much- cheaper, less powerful offering. Amazon says the Kindle Fire should offer between 7 and 8 hours of battery life, compared to the iPad's 10+ hours.
Unlike the iPad, however, the Kindle Fire supports Flash; Amazon says that it built its own plug-in to support the Adobe technology.
Amazon says that the Kindle Fire includes technology called Amazon Silk, which should dramatically speed up the Web browsing experience. It accomplishes this by pre-loading and rendering some content on Amazon's own EC2 servers before transmitting it to the device. For example, Silk notices that people who go to the New York Times home page often go to the business page afterwards, so it might start pre-fetching the business page before you tap to go there. You needn't think about the technology, Amazon says; it simply makes the browsing experience much, much faster.
The company says it will start shipping the Kindle Fire on November 15; pre-orders are available now.
The Kindle Fire is Amazon's first color device. Despite the inevitable iPad comparisons, the tablet perhaps competes more directly with the similarly-sized (and similarly-powered) Nook. Amazon's original Kindle devices ignited a now-thriving ebook and e-reader market, though all previous Kindles supported non-multitouch, grayscale e-Ink screens.
The Kindle Fire wasn't the only new device Amazon announced on Wednesday. The new Kindle Touch is a Wi-Fi e-Ink reader with no keyboard, sporting an infrared touchscreen. The device uses a large touch target to advance to the next page, and a smaller one to go back a page; gone are the hardware buttons that characterized earlier Kindle models.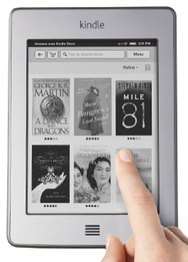 A new feature called X-Ray gives you access to an added layer of information about the book you're reading—including information about the characters, background information from sites like Wikipedia, and more.
The Kindle Touch costs $99—Amazon's first sub-$100 price point for the Kindle. Amazon also introduced a $150 Kindle Touch 3G, which like other 3G Kindles is an all-inclusive data offering with no monthly fee. Those prices are for models that include Amazon's special-offers—advertisements that appear on the device's main menu and lock screen, but that don't interrupt the reading experience. Without special offers, the Wi-Fi Kindle Touch costs $139, and the Kindle Touch 3G costs $189.
Both models of the Kindle Touch are available for pre-order today, and ship November 21.
With the Kindle Touch at $99, it only made sense for Amazon to drop the price of its standard Kindle model. And indeed it did. The lightly-updated Kindle, which Amazon says is even faster and smaller than the previous edition, now costs just $79. It too now lacks a keyboard. (The $79 price again includes Amazon's special offers; the device costs $109 without such ads.)
Amazon CEO Jeff Bezos in describing the new Kindle product line and its eye-popping prices, declared, "We're making premium products and selling them at non-premium prices."
Updated several times before 10:50 a.m. Eastern with more information from Amazon's event. Updated at 10:53 a.m. Eastern with correct Kindle Touch price in headline. Updated at 10:54 a.m. with Kindle Fire ship date. Updated at 11:10 a.m. with added imagery and clarification on pricing with and without special offers.
Amazon Kindle Fire Tablet Computer
Note: When you purchase something after clicking links in our articles, we may earn a small commission. Read our affiliate link policy for more details.