The maker of Fruit Ninja has big hopes for China, and aims for the hit game to reach an additional 70 million downloads in the country over the next six months.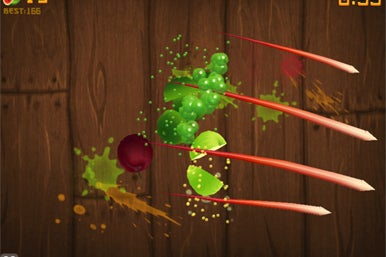 Australia-based Halfbrick Studios released Fruit Ninja in 2010, first on Apple's iOS App Store, then to other mobile OSes as well as Microsoft's Xbox 360. The game has since gone on to attract 600,000 downloads per day, according to Halfbrick Studios CEO Shainiel Deo.
But while most downloads for Fruit Ninja come from the U.S., China has become the game's second largest market. Already, 30 percent of the game's total downloads, or 20 million, come from China, Deo said.
"The Chinese market is our number one market going forward," he said while being interviewed at an event in Beijing called mobiTalk.
However, Fruit Ninja's downloads in China could be higher if not for the rampant piracy in the nation. Deo estimates that about 50 percent of the Fruit Ninja games played in the country are pirated versions.
Halfbrick is working to change that. The company has partnered with a Chinese mobile gaming company called iDreamSky to help Halfbrick spread official versions of the game through channels like websites and app stores in China.
Halfbrick is also partnering with iDreamSky to develop localized versions of the game for the Chinese market. At least five upcoming versions of the game will be centered on Chinese content, Deo said. At least two of those will be released by the end of the year.
"When you see the rate of downloads per day and the rate its increasing, I don't think its going to be a big deal to hit that target" of 70 million, he said, adding that the new versions of the game will help Halfbrick exceed that goal.
To make money off the game in China, Halfbrick is releasing free versions of Fruit Ninja that will feature ads and in-app purchases for virtual goods. The company also wants to license pre-loaded versions of the game for mobile devices.
Halfbrick is just the latest foreign gaming firm to target the Chinese market, which has more than 900 million mobile phone users. The maker of Angry Birds, Rovio, is also working to localize its games for China and aims for Angry Birds to reach 100 million downloads in China by the end of this year.
Like Rovio Angry Birds, Halfbrick wants to turn Fruit Ninja into a major franchise. "I think we are really following in the footsteps of Rovio," Deo said, noting that the company plans to sell merchandise in China and already has acquired an animation studio to produce short films.
While Fruit Ninja has been a hit in China, the game has ironically not performed as well in Japan, Deo said. "I think a lot of that stems from localization issues," he said, adding that Japan is another market the company wants to focus on. "English is not that widespread in Japan. And that market is very different too. Apps seem to come and go all the time."
As for why Fruit Ninja took off in China, Deo said he didn't know. "We built the game to be accessible to a wide audience," he said. "I'm just grateful Chinese fans love it so much."