Danish toy company Lego is pushing its toys into the mobile age with the Life of George iPhone app, which combines a digital and physical gaming experience.
The new Lego game consists of a free iPhone app, a set of bricks and a play mat that acts as a green screen. The goal is to build the image shown on the screen as fast as possible in real life. When players finish building the model they have to take a photo of the structure with their iPhone or iPod Touch to see if they succeeded. The app will calculate a score based on accuracy and speed.
Life of George is a 12-level game built around the Lego character George, who is a software engineer by day and an adventurer by night. Each level consists of 10 models and the game can be played alone or against a competitor. There is also a mode called "my life" that allows players to come up with their own designs. The self made models can be stored in the app's virtual scrapbook.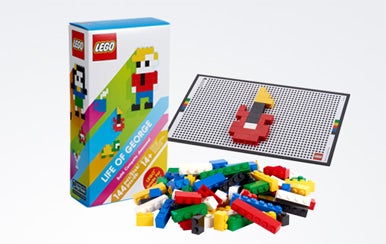 The company was looking for "a fun way to combine both physical and virtual play into one product," Paal Smith-Meyer, head of new business at Lego, explained in a statement. George has his own Facebook page where gamers can follow his endeavors and pick up hints to new game levels and app updates.
The game is exclusively sold in the U.S. and will remain available on iOS for now. Apps for other mobile OSes are likely to appear in the future, said Amanda Santoro, assistant brand relations manager at Lego. She could not say if there are any other Lego app games planned.
Life of George hits the shelves of Lego stores at Oct. 1 and will also be available online. The set costs $23.