There's no polite way to put this—few apps have made as frightful a debut on the iOS App Store as The Monster at the End of This Book did late last year. The initial iOS release of the beloved children's book proved more nightmarish than anything poor Grover might imagine, with slow-to-load animations, out-of-synch audio, and crashes that would bring the story grinding to a halt.
Give credit to Sesame Street and its partner Callaway Digital Arts for working to fix the problems. A steady stream of updates have taken care of the crashing problems that dogged the 1.x versions of the universal app. And while there's still a lag from the time you turn a page to when Grover's animated adventures continue, the delay's not as noticeable as it used to be and unlikely to trouble the app's preschool-aged target audience.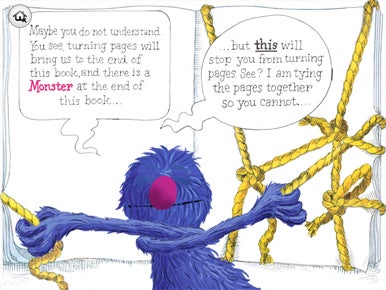 What you are left with, then, is a pretty good recreation of the classic children's book for the digital age. As Grover carriers out his performance on your iPhone or iPad, the words of the book appear on the screen, highlighted as they're spoken. The app also offers tips and discussion points for parents for talking to kids about dealing with fear and anxiety. And, as my daughter discovered, when she touched random parts of the screen, The Monster at the End of This Book comes loaded with Easter eggs; tap Grover at the right moment, and he goes hilariously off script.
Not every app makes its debut without a few wobbles; it speaks well of the development team behind The Monster at the End of This Book that they put in the work to tackle the 1.0 version's most notorious flaws. If you downloaded an early version of The Monster at the End of This Book only to be put off by all the shortcomings, it's time to reinstall the latest version and give it another chance. And if you steered clear of the app before, it's now a fairly polished ebook that's worthy of the Sesame Street brand.
[Philip Michaels is the editor of Macworld.com.]