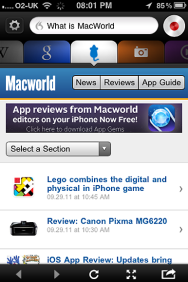 Released just two months ago, the voice-driven search app Dragon Go is finding more things to talk about with its latest update.
A search app from Nuance, Dragon Go lets you say what it is you're looking for directly into your iPhone (or third- and fourth-generation iPod touch, if you've got an external microphone). The app not only recognizes what you're saying, it can turn that statement into a search query and automatically produce results from specific content providers such as Google, Wikipedia, Yelp, and others. All told, Dragon Go features more than 200 content providers who can supply the answers to your voice-driven needs.
Thursday's 1.1 update added support for more utilities, including Ask.com and WolframAlpha for general search results. That powers a new question-and-answer feature in Dragon Go, allowing the app to better respond to specific questions.
The Dragon Go update also introduces support for Spotfiy and Netflix, giving users access to streaming media. A Spotify Premium user could request a song and have it play on demand. (Such a request would also allow users to pull up a music video or download the song from iTunes.) For those more into watching shows, asking the voice app to play a TV show will instantly find the best place for streaming episodes of that program.
As well as entertainment, Dragon Go can also come in useful when you're on the move. The update improves its Yelp integration with a new map view accessible from within the Yelp tab. That supplements the app's earlier ability to look up reviews for nearby restaurants.
Finally, the latest version of Dragon Go adds Google+ support. You can tell the app to look up profiles of specific Google+ users. Previously, Dragon Go had offered Twitter and Facebook support.
Dragon Go is a free download from the App Store. You'll need iOS 4.0 or later to run it.