At a Glance
Expert's Rating
Pros
Supports AirPlay, Pandora, Napster, and Rhapsody
Compact size
Impressive variety of audio-source options
Cons
Frustrating to type in usernames and passwords
Initial wireless setup a bit finnicky
Limited on-board controls
Our Verdict
Denon's $600 RCD-N7—also known as the RCD-N7 Network Ready Receiver/CD Wi-Fi Network Streaming AM/FM/CD Player With Integrated iPod Dock—is a small, powerful device for managing audio from just about any source that comes in your choice of white or black. In addition to an iPhone/iPod dock, a CD player, and an AM/FM tuner, the RCD-N7 can stream audio—via Wi-Fi or ethernet—from Internet radio, several online music services, and, thanks to integrated AirPlay, from your iOS devices and from your iTunes library on your computer. The unit's built-in amplifier supplies 65 Watts per channel at 4 ohms, which equates to roughly 33 Watts per channel at the more-common 8-ohm speaker rating. Which means the system is designed for use with bookshelf-size speakers or very efficient full-size speakers.
Unlike most AirPlay-enabled products we've tested, the RCD-N7 isn't a speaker dock, but rather a full-featured, two-channel receiver—and then some. Looking a bit like a super-sized Mac mini, the RCD-N7 measures 4.4 inches tall, 11 inches wide, and just under a foot deep. On the top of unit sits a hinged cover; opening it exposes an iPhone/iPod cradle. The unit's front face hosts a tray-loading CD player (remember those?); a USB port; a 1/8-inch (3.5mm) auxiliary-input jack (for connecting an analog audio source); a similarly sized headphone jack; an LED display; and Power, Source, Eject, Play/Pause, Volume Up and Down, and menu-navigation buttons. The CD player supports audio CDs as well as WMA, MP3, FLAC, CD-R, and CD-RW discs. The USB port lets you play music hosted on an MP3 player (including an iPod, iPhone, or iPad), a flash drive, or a hard drive.
The back of the RCD-N7 hosts a slew of additional ports. You get banana-plug-style speaker posts for the left and right channels, a pre-amp subwoofer output (for connecting an external subwoofer), one set of RCA stereo-audio outputs, two sets of RCA stereo inputs, an optical (digital) audio input, and connections for AM and FM antennas—an AM loop antenna and an FM wire antenna are included. There's also an ethernet port and a spot to attach the included Wi-Fi antenna. (Denon offers a set of matching speakers, the SC-N7 Speaker System, but the RCD-N7 works with any standard, unpowered speakers.)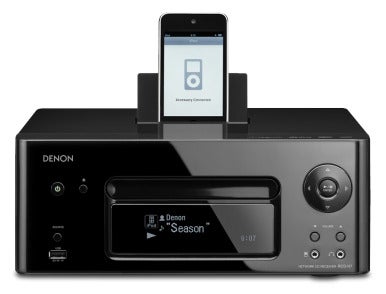 Once you've connected everything, you can, of course, listen to any of the RCD-N7's offline sources, but where's the fun in that? You buy a product like this to get online. When trying to do that, I had trouble connecting the device to my wireless network; the RDC-N7 would scan for minutes at a time and not find the network, even though it sat a mere two feet from my base station. I ended up entering the network's settings manually, instead of letting the unit determine my network's name and security configuration on its own. Connecting via ethernet was simple and worked immediately. With both connection types, I was surprised by how much time the RCD-N7 needed to connect—it took 15 to 30 seconds to establish the initial working connection, though reconnecting later was much faster.
(A quick note about firmware updates: When I first received the RCD-N7, I had trouble getting it onto my home Wi-Fi network at all. It turns out that our review unit, which was an early sample, was in need of a firmware update. Installing that update resolved most of my Wi-Fi issues, along with a few minor annoyances I had encountered. Also, AirPlay functionality isn't enabled by default on the RCD-N7; you must run a firmware update to get that feature. At one point Denon charged $50 for the AirPlay upgrade, but it's now available for free.)
Entering passwords and such on the RCD-N7's small LED screen is as tiresome as you'd expect—you use the RCD-N7's remote to cycle through letters one by one; you can also use the remote's number pad to type T9-style). Denon does offer a universal app for the iPhone and iPad—more on that in a bit—but, disappointingly, you can't use the app to type text using iOS's onscreen keyboard
The RCD-N7 lacks a menu button on its front panel, and that's an oversight. With it, you could navigate much of the system's interface without reaching for the densely-packed remote control. I found it most convenient to use the remote to trigger the menu and then use the on-board controls to move through those menus.
Once your get the system on your home network, it appears as an AirPlay destination in any AirPlay-enabled source—iTunes on your computer, or AirPlay-enabled apps on your iPhone, iPad, or iPod touch. I was able to stream iTunes music quickly and with very few hiccups—the RCD-N7's display even shows the current track's artist, title, and running time. The RCD-N7's own Play/Pause button stops and starts the music at the source, and the remote control adds Previous and Next options.
Browsing Internet radio stations is also straightforward. First navigate by genre, then you choose either top stations from that genre or continue navigating through ever-narrower categories. Streams started playing quickly, and they sounded fine to my ears.
You can also connect to Pandora, Rhapsody, and Napster through the RCD-N7. I have only a Pandora account, but once I went through the laborious process of entering my username and password, I could browse my saved Pandora playlists on the RCD-N7's sscreen. I was pleased that the system allowed me to indicate songs that I liked and disliked, just as you can with Pandora's official interface. I was, however, disappointed at the lack of Spotify support—perhaps this will come in a future firmware update.
Docking my iPhone 4 worked as expected, although—as with connecting to my home network—each time I put my iPhone in the RCD-N7's dock cradle, I experienced a delay of several seconds before it was ready to play my music. Annoyingly, the Play/Pause button on the front of the system doesn't work with docked iPhones and iPods, even though the Play/Pause button (and Previous, Next, Rewind, and Fast Forward buttons) on the remote control functioned as expected. Even more annoyingly, the RCD-N7's display constantly scrolls a message, "Please operate it with buttons or remote control, looking at the screen of the iPod," whenever you listen to a docked iPhone or iPod. That's just silly.
I also briefly tested the system's tuner, CD drive, aux-in port, and USB port. All functioned as expected.
The aforementioned remote control offers a dedicated button for each the RCD-N7's inputs, as well as playback controls, Mute, Menu, a four-way navigation pad, a number pad, volume and channel controls, and a button for toggling various sound options. The Denon Remote app offers dedicated virtual buttons for controlling Music playback, source selection, and volume control, as well as a Tone Control screen (for adjusting bass, treble, and balance), and it shows details about the currently playing song, when possible. By default, the app uses a ridiculously annoying "bing" sound to accompany every tap; fortunately, you can disable the sound in the app's settings.
As long as I didn't enable the system's Super Dynamic Bass mode, the RCD-N7 generated unquestionably satisfying audio. (The SDB mode produced more bass than I could handle.) Obviously, the sound you hear will depend on the audio files you're playing and the speakers you're using. I tested using a set of Samsung speakers from my home-theater system, and I was pleased with what I heard.
Macworld's buying advice
The RCD-N7 offers a heck of a lot of functionality—a lot of it wireless—letting you listen to your iPhone using the iPhone itself as its remote; to your iTunes library with your iPhone or Mac as the remote; or to streaming radio, streaming music sites, CDs, and on and on. Once you get the hang of its interface, the RCD-N7 makes for a powerful, do-everything receiver—both in terms of the functionality it offers and the audio it provides.