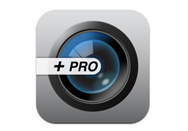 Global Delight has released an update to Camera Plus Pro, adding even more features to its all-in-one photo and video app. Version 4.0 adds live filters for photo and video capture, Smooth Video Zoom (a shake-free zoom feature), increased capture speed, and more.
The live filter feature, which lets you see what your image would look like before you capture it, is becoming a standard for photography apps. EyeEm released its photo app with real-time filter previews in August, and Instagram updated its app last week to include the feature. Camera Plus Pro's live filters work in the same way.
What sets this app apart is that it has live video filters as well, letting users preview not only how a filtered photo will look, but also how a filtered video will look before hitting the record button. The app boasts 18 live photo filters and nine live video filters, including options such as Antique, Nostalgia, Polaroid, and Holga. Camera Plus Pro has a total of 36 available filters and 9 available distortion effects. Not all filters are available in real-time, however.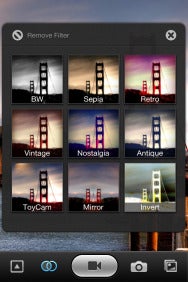 In addition, Camera Plus Pro has gotten a speed boost. According to Global Delight, it's now 30 times faster than the previous version. Photos and videos are instantly saved in the background, making it possible to capture up to 40 back-to-back photos. Video recording has also gotten a makeover. Users can record at 640 by 480 resolution with 17 fps, and a new Smooth Video Zoom makes recording shake-free videos easier, even while zooming in on subjects.
As with the previous versions of the app, you can edit photos and videos for brightness, contrast, saturation, hue, sharpness, tint, and temperature; create time-lapse videos; use camera effects such as grid lines, white balance lock, and touch exposure; rotate and crop photos; and share photos and images via Facebook, Twitter, Flickr, Picasa, YouTube, or email. Plus, the app automatically captures photos at the full resolution of your iOS device.
Camera Plus Pro 4.0 will be on sale for $1 for one week, after which it will go back to its $3 price tag. The app requires an iPhone 4, iPhone 3GS, or iPod touch running iOS 4.1 or later.